Wow.
I've been compiling auction sale price data on all types of used farm and construction equipment for nearly 26 years. Usually when a new record high sale price is set, the new record just ekes past the former record. Not this time.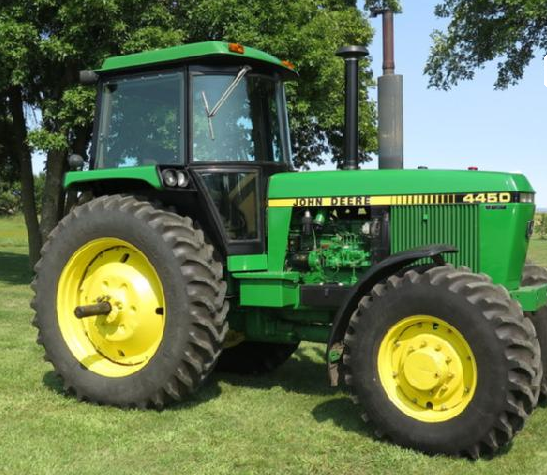 On an August 27, 2015 auction in southeast South Dakota, the 1988 model John Deere 4450 Tractor pictured above, with only 1,136 hours, sold for $77,500. This smashed the previous high auction sale price I'd ever seen on a 4450, $70,750 for a 1988 model with 2,612 hours on a March 9, 2013 farm estate auction I covered in southwest Minnesota. Here's Youtube video I shot of that 4450 selling…on a cold, wet, windy day two and a half years ago:
This wasn't an isolated case of an older Deere Series tractor from the 1980's and 1990's selling super high on recent auctions either. Nope. In fact, on a September 19, 2015 farm auction up in northwest Minnesota, this pair of 1992 model Deere 4455 Tractors (Quad Range) sold for $68,000. The same buyer took both. One had 1,565 hours, the other 1,769. These two Deere 4455 Tractors both sold new at Crookston Implement. SN# 22333 and 22318. These were the second highest auction sale prices ever on a 2WD 4455.

Show me a low hour Deere 50 or 55 Series Tractor in very nice condition for sale anywhere in the U.S. or Canada, and I'll show you a long line of interested buyers ready to start bidding.
If you enjoyed this post or want to read others, feel free to connect with us on Facebook, Twitter or Google+!
You might also like: