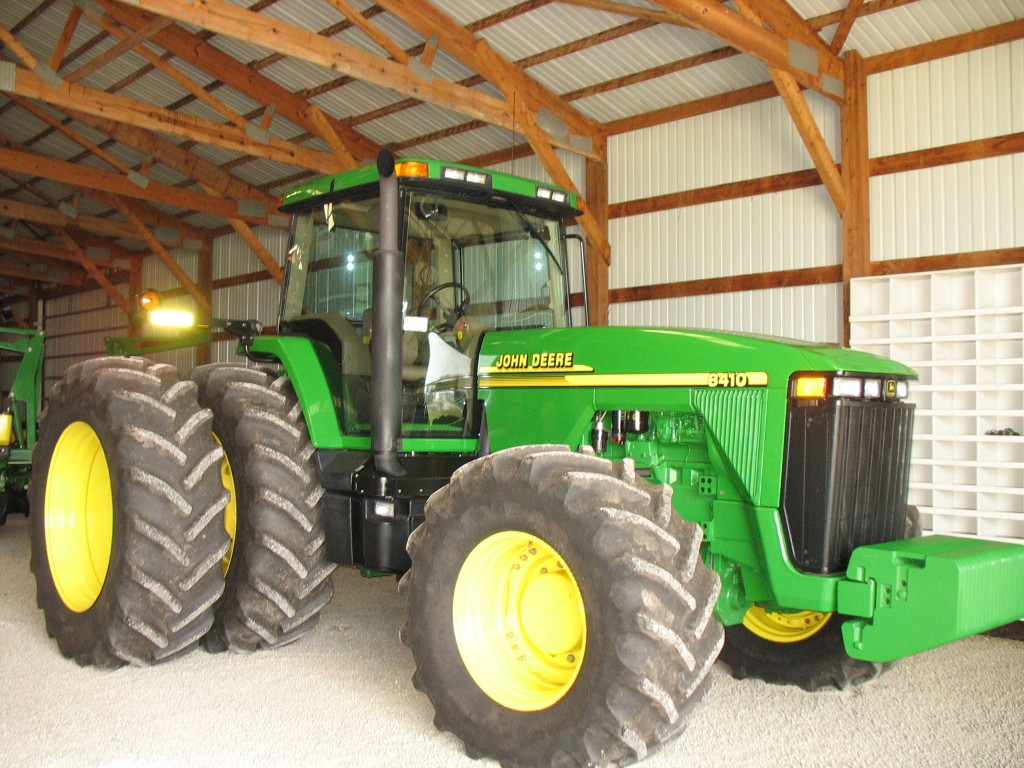 It was understood. Before entering the cab, you had to take off your boots & shoes.
An extreme example of meticulous care of your used farm equipment, some/most may say obsessive, but it worked. Just look at how the 2000 John Deere 8410 tractor shines. What a beauty. You could eat your Thanksgiving turkey dinner off the hood its so clean.
I thought about this tractor today. It sold for a new record high auction sale price of $136,000 back on a September 11, 2010 sale in northwest Illinois. What made me think of this beautiful JD 8410 tractor was another shiny JD 8410 sold on a farm auction in northwest Ohio last Saturday (November 17, 2012), see pic below: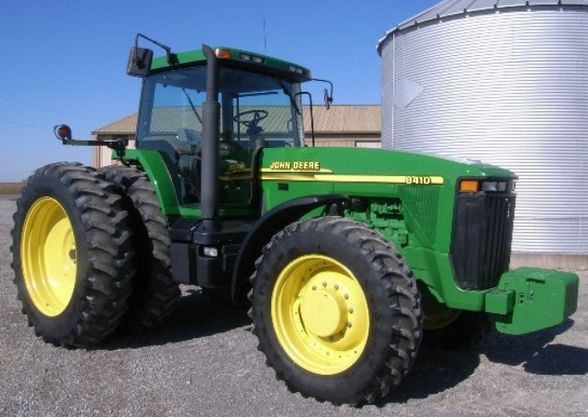 This was also a 2000 model John Deere 8410, but had over 2,300 more hours, 2,836 hours to be exact. Even with the far greater number of hours, this tractor sold for $130,000 on last Saturday's farm auction near Cloverdale, OH…making it the 2nd highest auction sale price I've ever seen on a JD 8410 tractor. More proof of how very RED HOT the current used tractor market is as 2012 winds down.
Another point of comparison: almost exactly one year ago, on a November 17, 2011 farm auction in northeast Iowa that we shot for our "Machinery Show" on RFD-TV, a 2000 John Deere 8410 tractor in "Like New" condition with 2,793 hours sold for $117,000.
So $117,000 for a 2000 model Deere 8410 with 2,793 hours last November and now $130,000 for a 2000 model Deere 8410 with 2,836 hours this November. As I've been saying for a while now…"the used tractor market is ON FIRE."
About Machinery Pete: Greg "Machinery Pete" Peterson has been working in the agricultural industry for 21 years and details agricultural equipment prices and trends at his website, Machinerypete.com. Greg also writes columns for Successful Farming magazine, Implement & Tractor magazine, Agriculture.com web site and also appears on the Machinery Show on RFD-TV.
You might also like: