John Deere leverages virtual reality with its Operator Training Simulators. These are a cost-effective and safe way to train both future and existing operators in a "hands on" setting.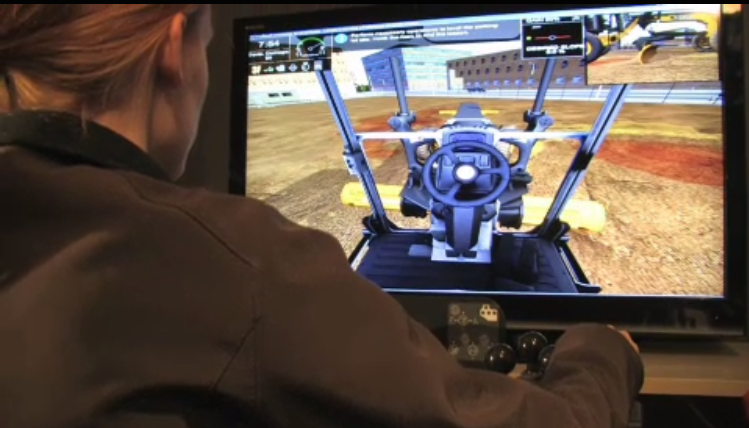 With the John Deere training simulator, operators experience extremely realistic lessons to learn the proper techniques, control, and procedures on the virtual job site.
To better explain the features and benefits of John Deere simulators, we wanted to share this video with you. Here you will see a real-life example of a construction company utilizing virtual reality as part of their training process.
Anchor Construction has made virtual training a reality for contractors in their area with John Deere simulators. Founded in 1985, they now have 300 people and about 35 crews from Baltimore County to southern Maryland.
Florentino Gregorio, President of Anchor Construction, explains that John Deere equipment simply does a better job for them. These machines cause less disturbance and can get into smaller spaces.
Working around the DC area is always very challenging and picking a lane is sometimes impossible with the traffic. In the past, quality operators have been hard to come by.
Something Anchor Construction has emphasized is training in-house. John Deere stepped up to the plate to help them train valuable operators with the excavator simulator.
The Cost Benefit
Anchor Construction utilizes virtual reality to test and teach future and current operators. There's no longer a need to spend money on diesel fuel when training operators and they are not having to assign a full-time superintendent to monitor training. There's certainly a lot of cost benefit here.
Increased Knowledge & Expertise
Especially in an urban setting, the operators have to know what they are doing with every turn. The liability is great and construction business owners don't have a whole lot of room to make mistakes.
With virtual reality, operators have the ability to get the training they need without loss or damage to equipment, cars or pedestrians. They quickly learn what to look for when utilizing the equipment out on the virtual job site.
Virtual Job Site Example
In the video above, you will witness a real-life example of the John Deere simulator at work. The simulator will show you the operator filling up the truck and how efficient the process is. What is really interesting for managers is data around the equipment damage, as it also keeps track of performance and progression here.
Real Life vs. Virtual Reality
This process can't entirely take place of actually getting in and realizing what it's like to run the machine. The next stage would be to get into the equipment and actually do some real-life training. What John Deere virtual reality does is minimize the time and mistakes made when future operators are finally in these real-life situations.
Final Thoughts
John Deere simulators are entirely customer-driven and feature real-life circumstances, equipment damage, controls, hazards, safety issues and more. The simulators offer many benefits for new and more experienced operators looking to improve their skills with construction and heavy equipment.
If you enjoyed this post or want to read others, feel free to connect with us on Facebook, Twitter or Google+!
You might also like: