Those who are responsible for maintaining a highly landscaped lawn can turn to John Deere for a mower that suits all of their needs. The John Deere F525 is one example of a mower that, upon its release, catered to casual and professional landscapers alike. Best-suited for customers that worked with 1/2 to 3 acres of land, this machine was easy to maneuver and came with features that made it optimal for trimming.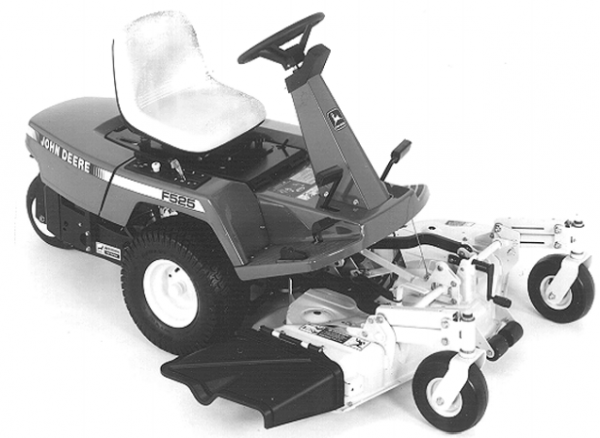 Let's take a look back at some of the features of the John Deere F525.
3-Wheel Design
The 3-wheel design of the John Deere F525 was designed to provide excellent maneuverability while the mower was in use. The steering tire stayed within the path cut by the mower deck. This gave users one less thing to worry about as they worked around obstacles that came in contact with the machine. The steering wheel of the machine also provided operators with the familiarity they enjoy.
Engine and Transmission
The 17 horsepower KHI engine of the mower was pressurized and had filtered lubrication for a longer life. It also had a fixed jet carburetor for precise control of the air-to-fuel ratio. The KHI hydrostatic transmission allowed for fast, easy control of the mower's direction and speed. An internal charge pump maintained a constant oil supply to the transmission for proper lubrication during use. Together, the engine and transmission had a low center of gravity, providing operators with more stability, especially on slopes.
Foot Controls
The foot controls of the John Deere F525 made the mower simple to use and maneuver. Two pedals were all operators needed to select speed and direction without removing their hands from the steering wheel. There was also a master stop brake to return hydrostatic foot control to neutral and disengage PTO when necessary.
Operator Conveniences
The operator of the John Deere F525 had a high back seat, which could be adjusted up to six inches fore-and-aft. Low fuel, oil pressure, and charge lights appeared on the front of the mower where operators could monitor them while working. Lights were also positioned for the utmost visibility, even in bright sunlight.
Mower Deck Options
The 38-inch mower deck had a narrow width, which was optimal for operators who wanted to pass through areas, such as gates. It also required minimal storage space when the mower was not in use. The 48-inch deck provided maximum trimmability, and it could be easily removed or mounted without the use of tools.
For more information about the F525 or other mower models, contact your local John Deere dealer today.
If you enjoyed this post or want to read others, feel free to connect with us on Facebook, Twitter or Google+!