Agricultural professionals who are looking for consistency when they're placing seed and fertilizer may want to consider the John Deere 1895 Air Drill. This piece of equipment is designed for separate fertilizer placement, and it is designed to provide consistent depth across the entire field while in use.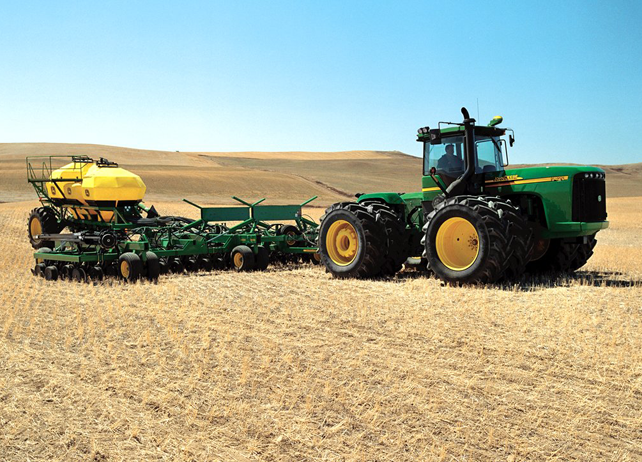 Let's take a look at some of the benefits of using the John Deere 1895 Air Drill on the job.
No-Till Openers
The no-till openers of the John Deere 1895 Air Drill come standard. The single disk openers are gang mounted, and hydraulically raised and lowered. The hydraulic downforce system provides operators with a range of downforce settings for the openers. They also work in no-till conditions, as well as minimum or reduced-till conditions.
Ag Management Solutions
Agricultural management solutions from John Deere are compatible with this air drill. Parallel Tracking™ can be used to show the operator-designated path on a GreenStar™ display. It also provides visual and audible cues to help users stay in line while moving across the field. AutoTrac™  and John Deere Section Control™ are also available to enhance precision on the job.
GS3 System
The GS3 2630 Display is compatible with the John Deere 1895 Air Drill, and it can be used for multiple purposes. For starters, it can document chemical and fertilizer applications. The data can be uploaded into the Apex Farm Management software afterward for reporting information. The display is also useful when it comes to documenting tillage operations. Once its data is integrated into the Apex Farm Management software, it can be utilized to generate maps. Field boundaries, application rates, and seeding rates can also be tracked with the GS3 system.
Frame and Hitch
The John Deere 1895 Air Drill has a frame with the potential for 76 openers. It folds to a maximum width of 18.4 feet with wings over its centerframe for the utmost stability. The duals on the mainframe also help carry the frame with little compaction on the field itself. In addition, the air drill has a Category 5 hitch. This allows it to be used with high-horsepower tractors for more productivity.
Dual Lockout Valves
Customers can opt for a dual-row spacing package with the John Deere 1895 Air Drill. This allows them to quickly lock up unused ranks, which can minimize wear and tear. Operators will also be able to quickly adapt their air drill to alternate row spacing for a wider variety of crops.
If you enjoyed this post or want to read others, feel free to connect with us on Facebook, or Twitter!
You might also like: