As the spring season progresses, farmers across the country are beginning to tend to their soil. With the John Deere 60-foot 1895 Air Drill, operators can ensure they are evenly placing seed and fertilizer in order to get consistent growth results.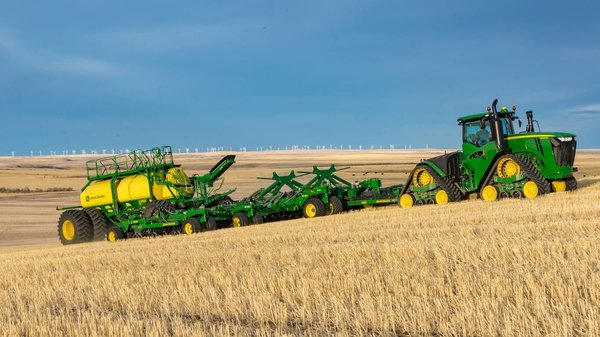 With features such as spoked gauge wheels and high-flotation tires, this equipment is able to power through any type of soil while maintaining uniformity and reliability throughout the field. Watch the videos to learn more about the 60-foot 1895 Air Drill and how to guarantee you are making the most out of this machinery with TruSet™.
By utilizing the Power Beyond connection on this piece of equipment, a constant hydraulic flow will maintain the set pressure and thus provides the best hydraulic efficiency when placing the seed.
For those machines not equipped with the Power Beyond Connection, the raise/lower and active downforce must be connected to the SCV stack. While seeding can occur without using Power Beyond, the preferred method involves this connection; kits are available for purchase based on your specific tractor.
This piece of equipment allows operators to adjust fertilizer and seed downforce quickly and easily within the cab. By utilizing the display on the John Deere 60-foot 1895 Air Drill, operators can input desired downforce settings individually or by setting up six preset pressures.
It is important for operators to run a sensor calibration at the beginning of each season and when the depth setting has been changed. By utilizing the TruSet display, operators can easily run this calibration as well as set alarm limits that provide live information regarding downforce.
The technology within this piece of machinery allows for efficient, consistent seeding and fertilization within any field. We hoped you enjoyed learning about John Deere's 60-foot 1895 Air Drill and its many features.
If you enjoyed this post or want to read others, feel free to connect with us on Facebook, Twitter or Pinterest!
You might also like: