John Deere tillage equipment is designed to help producers prepare a quality seedbed season after season before the planter takes the field.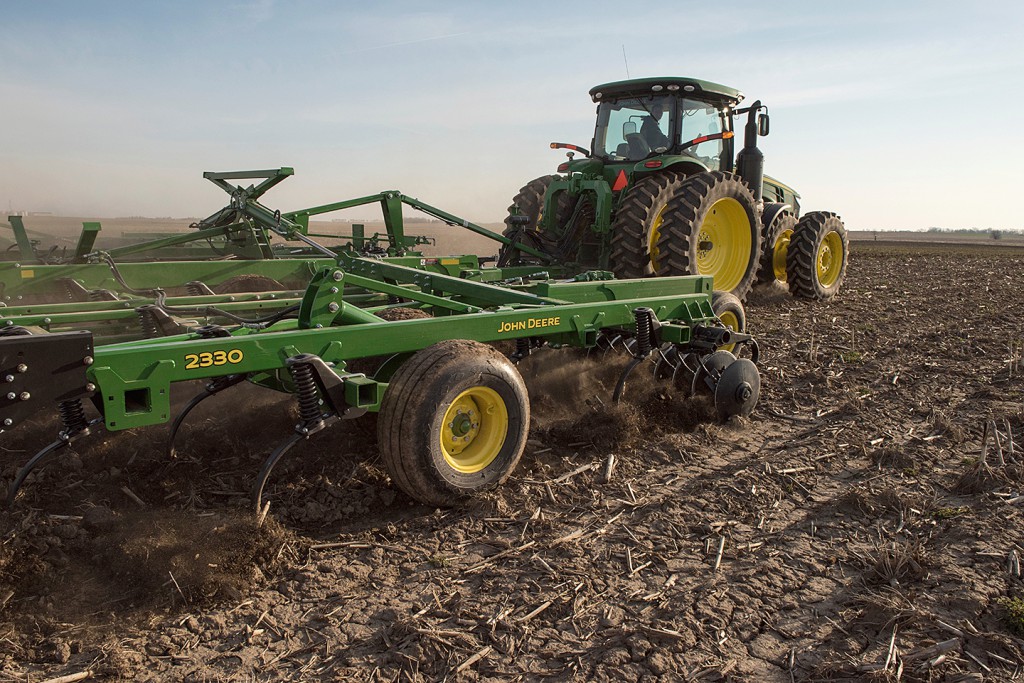 Thanks to two new additions to the lineup, the 2230 Field Cultivator and 2330 Mulch Finisher, producers now have wider and redesigned options to get the job done even quicker and more efficiently.
Let's take a look at some of the key specs and features of each new piece of tillage equipment.
John Deere 2230 Field Cultivator
The new field cultivator comes in Level-lift™ and Floating Hitch models, both of which are designed to handle soil at speeds reaching 10 mph. Each model provides even soil mixing thanks to TruPosition™ standards that provide 200 lbs. of trip force.
The Level-lift option is best-suited for ground that is level and comes with three or five-section configurations. Fifteen size configurations range from 23.5 feet to 60.5 feet in width. The 2230 Floating Hitch Field Cultivator is best used on level or hilly terrain and comes with 14 widths ranging from 25.5 feet to 69.5 feet.
Both the Level-lift and Floating Hitch models come with Deere's ProFinish™ Leveling System that includes six rear harrow options. Each model also hosts TruSet™ Tillage technology, which allows operators to control depth and down control pressure directly from the cab with precision.
John Deere 2330 Mulch Finisher
Along with the new 2230 Field Cultivators, Deere introduced the 2330 Mulch Finisher. The 2330 is designed to offer producers a piece of tillage equipment that provides them with an opportunity to effectively size and distribute chunks of residue while maintaining a smooth seedbed. The frame has been redesigned to allow for wider widths and more rear harrow options.
This piece of equipment comes in nine different sizes, ranging from 21.75 feet to 56.25 feet. All nine sizes can operate at speeds up to 10 mph. The 2330 offers producers with many of the same features as the 2230 Field Cultivators, such as TruSet technology, which will help them work both smarter and faster.
Jarred Karnei, product marketing manager for John Deere, says, "We've made some significant changes to our next generation of field cultivators and mulch finishers to set John Deere apart from the competition and that customers will find tremendous value in," adds Karnei. "From the frame and tires to more finishing options and advanced adjustability — all of these improvements are to ensure customers can get an ideal seedbed from a single, productive pass ahead of the planter."
Contact your local John Deere dealer if you have questions about these models or any other John Deere tillage equipment.
If you enjoyed this post or want to read others, feel free to connect with us on Facebook, Twitter or Google+!
You might also like: