As the weather begins to warm across the country, tee times will begin filling up and golfers will start spending their days out on the course. There's a phrase in golf that states, "look good, feel good, play good," meaning you will likely play better if you feel like you're dressed sharply.

With this phrase in mind, here's a list of John Deere golf shirt options for men and women, so they can play their best this upcoming season.
John Deere Golf Shirt Options for Men
Men's Gray Dri-FIT Polo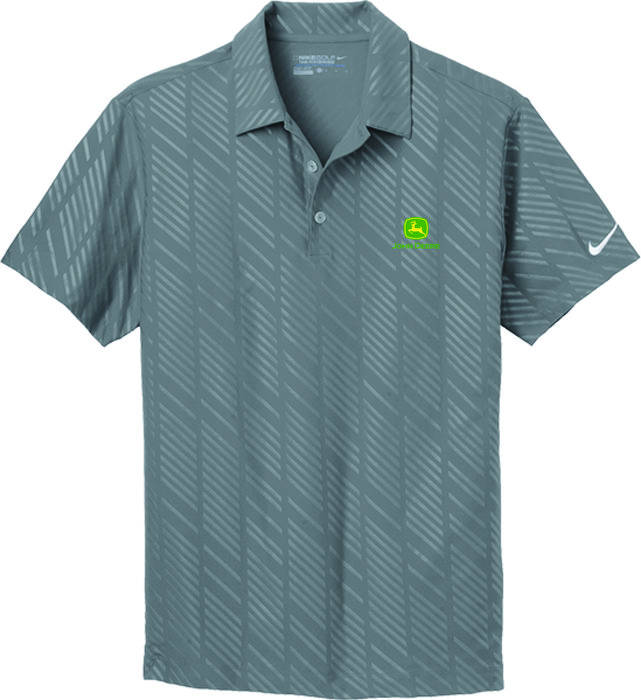 Show off your John Deere pride with a Nike Swoosh on the left sleeve. This shirt is moisture-wicking and is made from 91% polyester and 9% spandex for ultimate comfort.
Men's Performance Quarter-Zip Pullover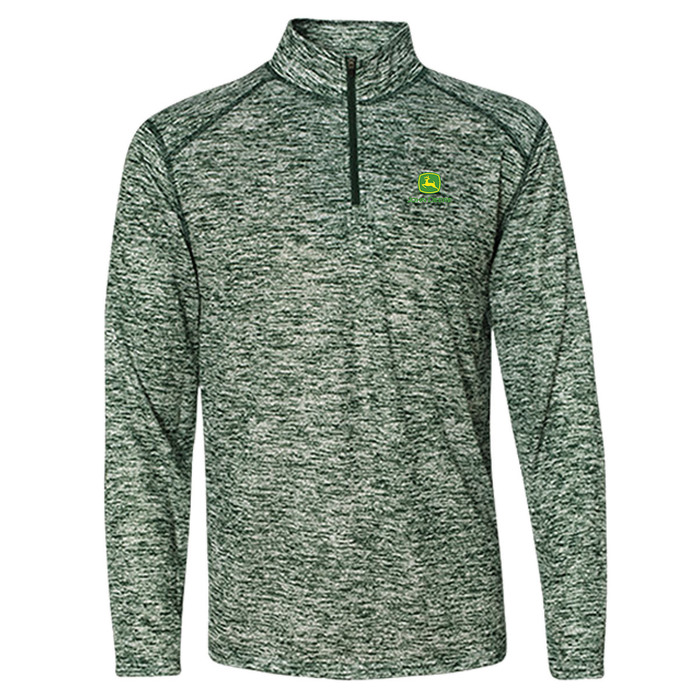 A windy or cool day on the course might call for an additional layer. This polo has a 7″ zipper on the front (along with a John Deere logo) and is made from 100% sublimated polyester.
Men's Dri-FIT Mini Texture Polo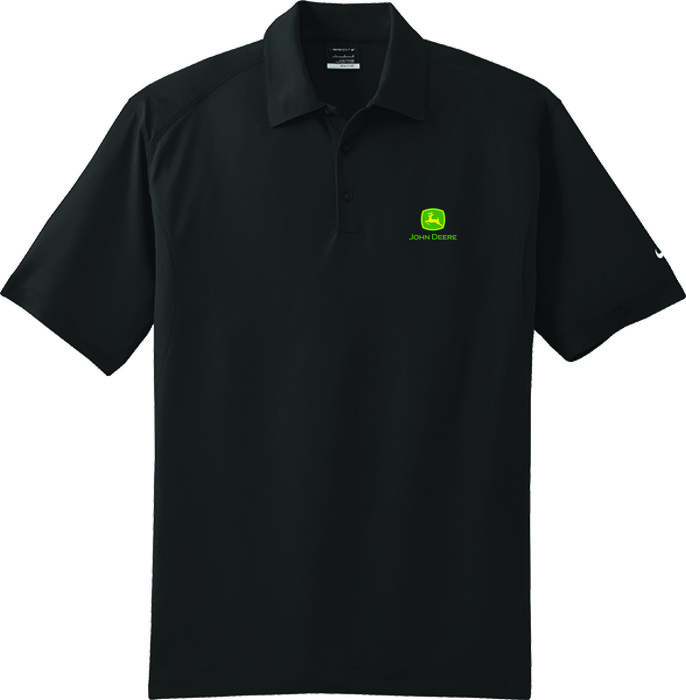 This moisture-wicking shirt is a good choice for warmer days as there are side vents for increased breathability and comfort. The John Deere logo is joined by a stylish NikeSwoosh on the left sleeve.
John Deere Under Armour Men's Locker Long-Sleeve T-Shirt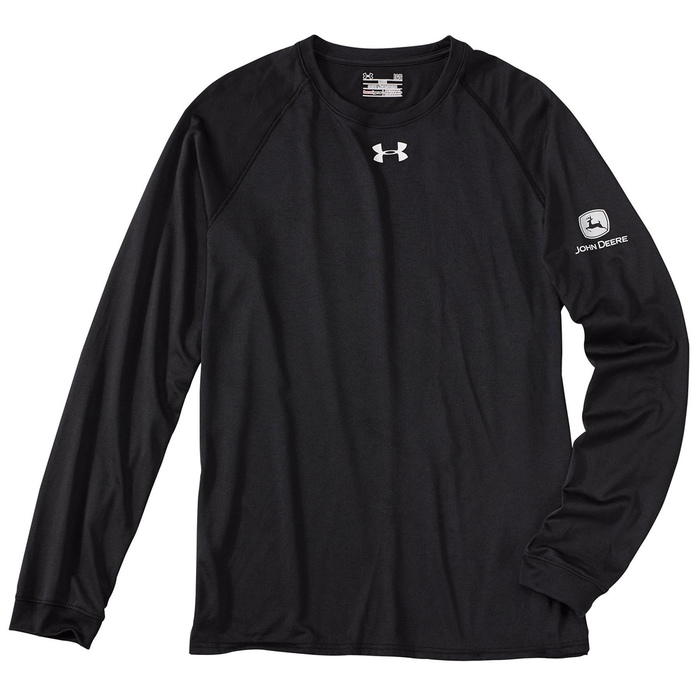 Dedicated golfers play in almost any conditions. For those that get out there during the cold weather seasons to brave the elements, John Deere offers this Under Armour® long-sleeve shirt. The Under Armour logo is found in the center of the shirt while the John Deere logo is located on the left arm.
John Deere Logo Callaway Knit Polo Shirt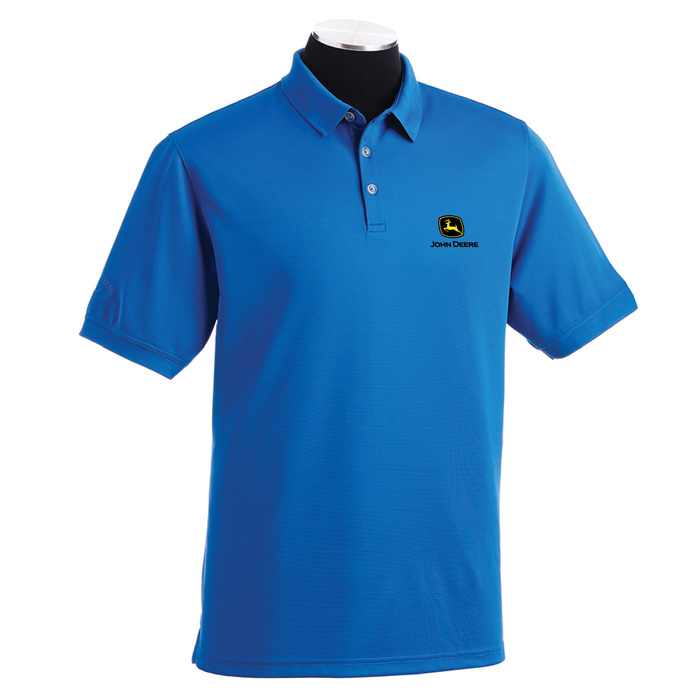 Callaway is a recognizable golf brand name. However, due to this shirt's breathable material, it can also be a great choice to wear in the office.
Men's Purple Embossed Polo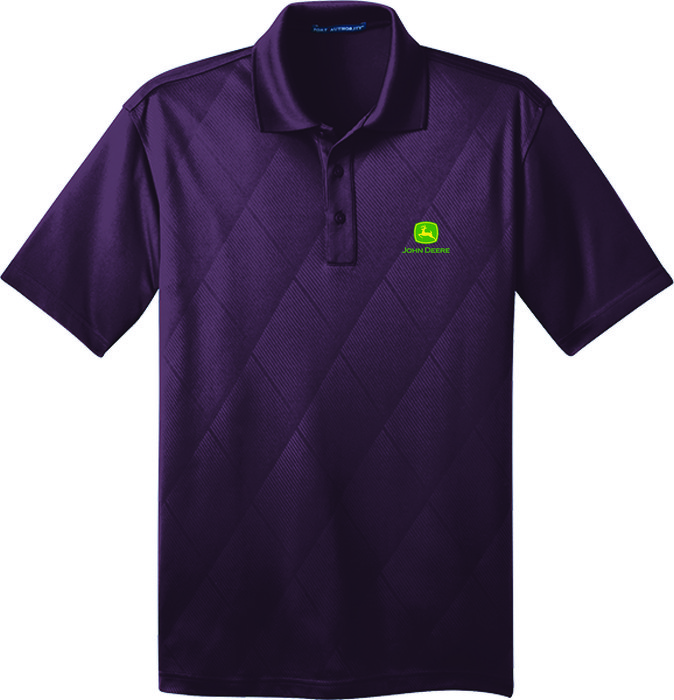 This 100% polyester golf shirt is made with variegated diamond embossing and also has side vents for increased breathability during warmer days on the links.
Two-Tone Neutral Logo Polo Shirt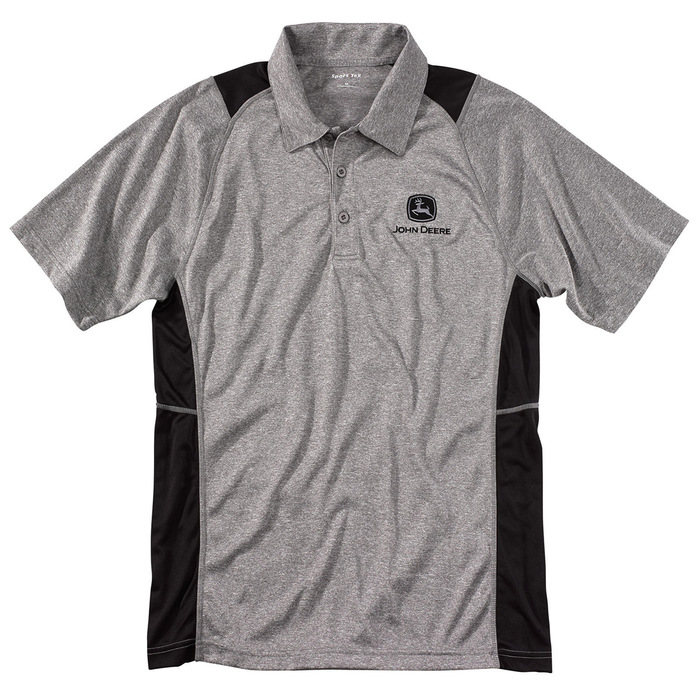 This two-toned black and gray John Deere golf shirt includes the Deere logo on the left chest and is made from moisture-wicking fabric.
John Deere Men's Green Polo Shirt With Logo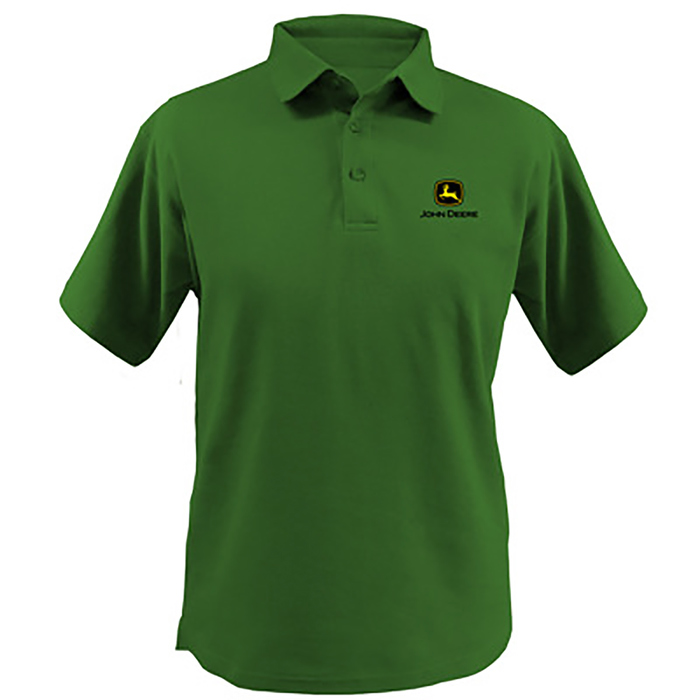 This shirt is perfect for a classic John Deere fan that wants to display their affinity for the green and yellow while teeing it up. It features a John Deere logo on the left chest and sleeve.
John Deere Golf Shirt Options for Women
Ladies Golf Dri-FIT Polo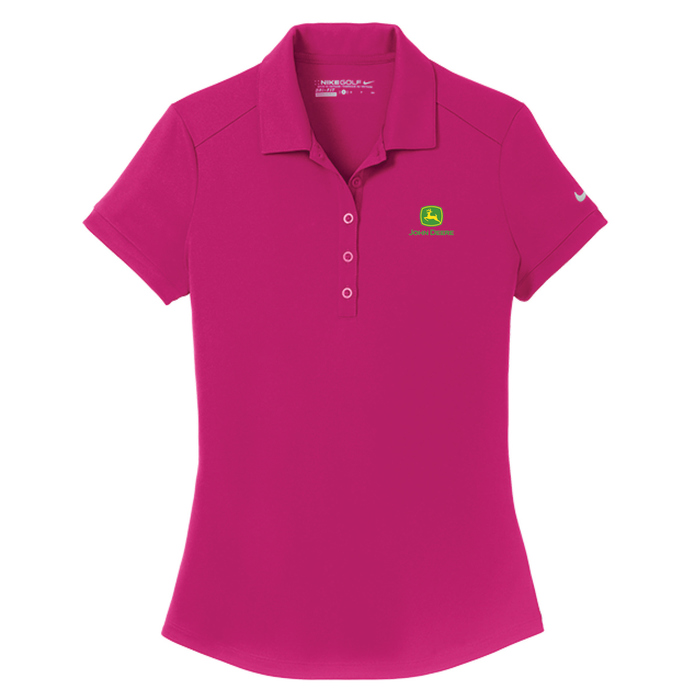 This pink golf shirt is complete with a Nike Swoosh on the left sleeve and a five button placket. It's tailored for a more feminine fit and is made of 100% polyester fabric.
Ladies Golf Dri-FIT Pebble Texture Polo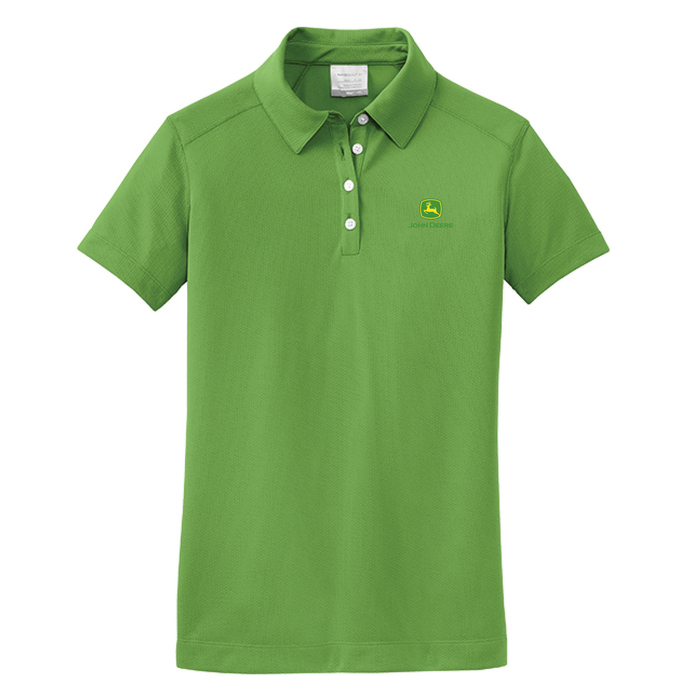 Once again branded with a left sleeve Nike Swoosh, this ladies golf shirt has four pearlized buttons and a pebble texture for a more classic look.
Ladies Dri-FIT Vertical Mesh Polo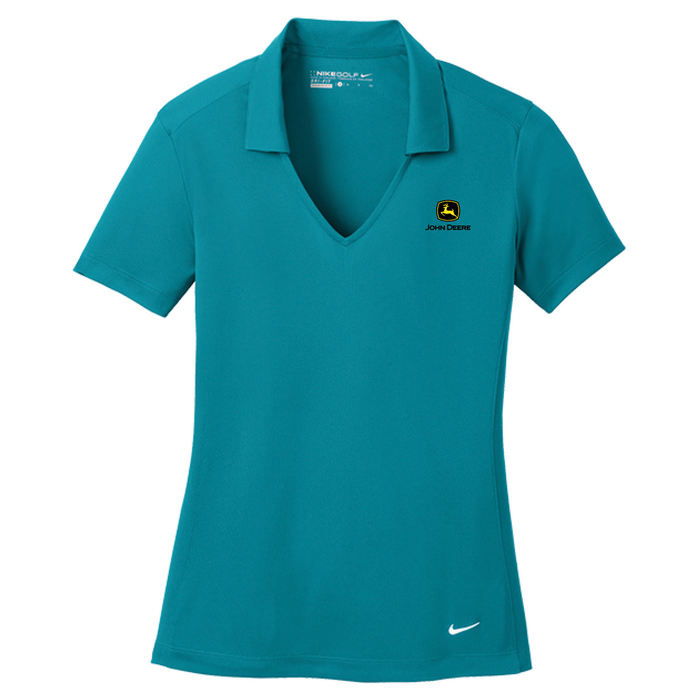 This shirt is also tailored with a feminine fit and the Nike logo can be found on the bottom left hem. This shirt is also 100% polyester and makes for a great warm day option.
Ladies Purple Embossed Polo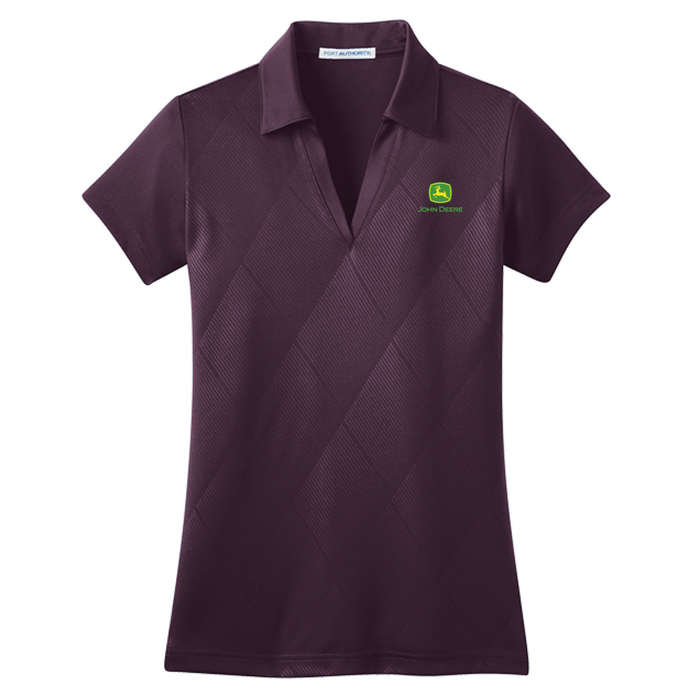 Similar to the mens option, this polo has variegated diamond embossing. The V-neck collar and side vents increase breathability.
Women's Snag Protection John Deere Polo Shirt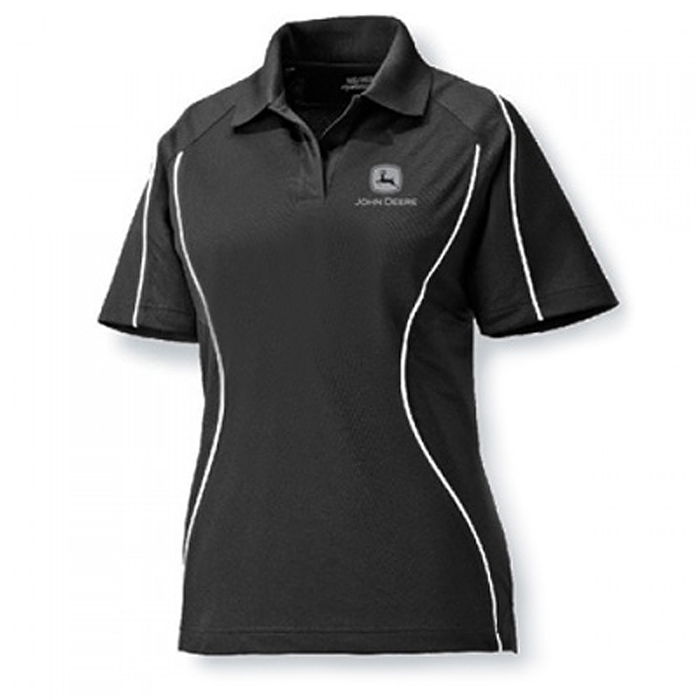 This shirt is antimicrobial and provides UV protection, which keeps it looking good and odor-free. The John Deere logo is embroidered on the left chest and the white contrast piping gives it a unique look.
John Deere Ladies Black Polo Shirt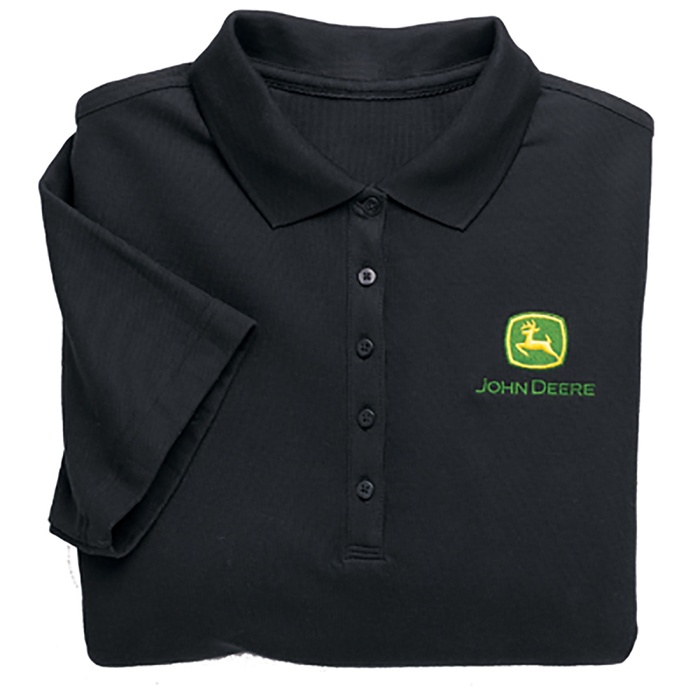 This classic John Deere polo is great for a proud John Deere fan. The anti-curl collar makes it a great option for golf as it will stay looking sharp even after a number of swings.
If you enjoyed this post or want to read others, feel free to connect with us on Facebook, or Twitter!
You might also like: