The John Deere 5R Series tractors were introduced to provide customers with easy-to-maneuver machinery for everyday tasks out in the field. They come with increased visibility, loader integration, and more operator comfort than previous models.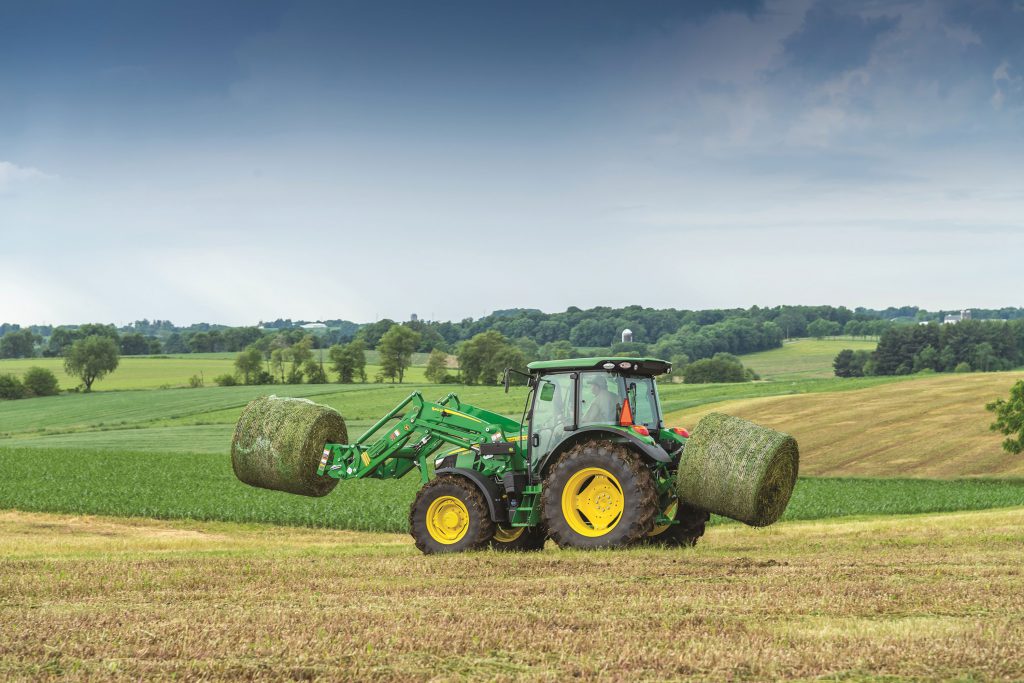 The John Deere 5R Series tractors can also be equipped with the 540R loader for enhanced versatility. Let's look at the highlights of each of these tractors.
5090R
The 5090R tractor comes with a Final Tier 4 engine to meet emissions standards while providing up to 90 hp of engine power. The Command8™ transmission for premium ground speed also comes standard with this tractor, and it has smooth hydrostatic power steering. Loader joysticks are integrated with the transmission to make gear shifting a breeze.
5100R
Those who want a little more engine power can get up to 100 hp from the 5100R tractor, which comes with a Final Tier 4 engine. Hydrostatic power steering makes this machine easy to maneuver out in the field, and it comes standard with AutoClutch™. This allows operators to bring the tractor to a complete stop without clutching. Along with the other 5R Series tractors, this machine has an intuitive digital cornerpost display. This gives operators the equipment information they need on-the-go as they make adjustments while working.
5115R
The 5115R tractor comes with a 115 hp Final Tier 4 engine with maximum fluid efficiency. Similar to other John Deere 5R Series tractors, this machine comes with loader joysticks that are integrated with the transmission, optimal maneuverability, and AutoClutch. The cab suspension in the 5R Series tractors is also designed to provide maximum comfort to operators when the machine is in use. The cab itself rests on two rubber isolators and two shock absorbers to dampen vibrations.
5125R
With 125 hp, this machine has the most engine power out of the John Deere 5R Series line of tractors. It also comes with many of the features seen in the other models, such as smooth hydrostatic power steering and Command8 transmission. A power bulge and torque reserve help operators work in demanding conditions, and a heavy-duty 3-point hitch adapts to a wide range of implements.
All of the John Deere 5R Series tractors come with panorama cabs, which provide enhanced visibility. They can also be used with the PFC hydraulic system for 25 percent more hydraulic flow capacity, in addition to the 540R loader.
Contact your local John Deere dealer for more information about the new 5R Series or other tractor models.
If you enjoyed this post or want to read others, feel free to connect with us on Facebook, Twitter or Google+!
You might also like: