You may be familiar with John Deere's 5R series, which offers machines from 90 all the way to 125 horsepower with advantages within each option. What you may not be aware of is that these tractors come equipped with the ability to handle both snow and hay tasks. Though these applications may be opposite in their focus, both are pivotal in the tractor landscape.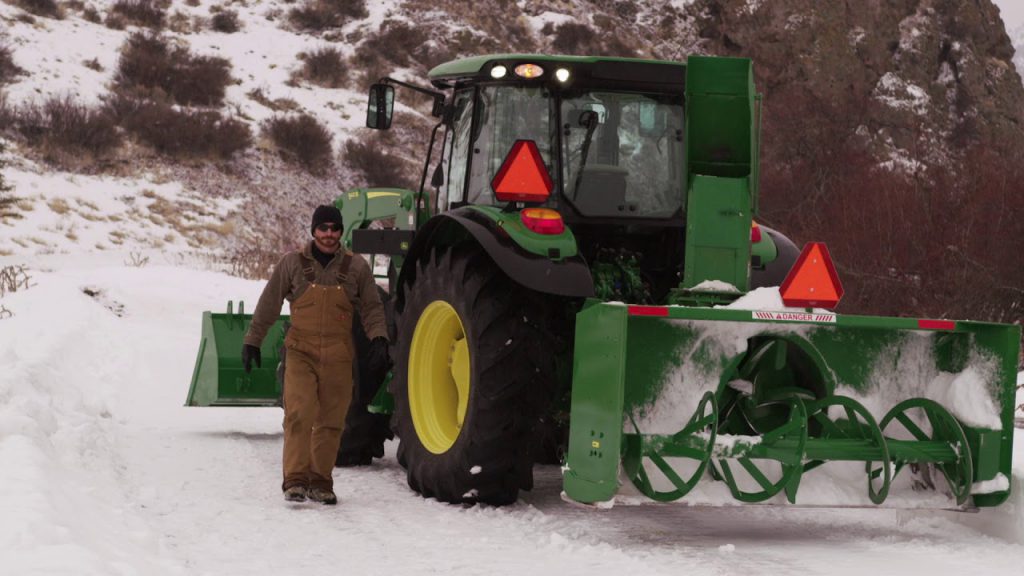 With an 8% tighter and more accurate turn radius than other tractors within the field, the 5R series makes for easy maneuverability when working in confined spaces. In addition, these machines operate with a 30% more efficient fluid PFC hydraulic system, making for a stronger flow.
The most astonishing feature of the 5R series for snow application, aside from its ability to plow through the toughest of snow and ice? There's not much it can't do. From mounds of snow to plowing your street, the 5R can do it all. This tractor is equipped with the highest level of comfort for your longest jobs in the coldest of weather.
Each 5R tractor comes with two front, two rear, and two side halogen work lights. These lights illuminate brightly and increase visibility in low-light conditions, such as snow. This allows for those dreary days to not stop you from being productive and allow you to keep going strong and continually making an impact.
The 5R series hay attachments, like the rest, are nearly unstoppable. With the right attachment options, you can do everything from mowing, to baling, to stacking and loading wagons. These tractors are equipped with an 80% improved upward visibility through its premium panorama cab.
Snow and hay are just a few of the many applications that can be taken on with a 5R series tractor. These tractors don't just bring advantages to the field, they bring advanced technology to meet all your needs as well.
If you are in the market for a new tractor this season that can enhance productivity and do numerous jobs in one – the John Deere 5R series could be for you!
For more information about the John Deere 5R series, contact your local John Deere dealer.
If you enjoyed this post or want to read others, feel free to connect with us on Facebook, Twitter or Google+!
You might also like: