The John Deere Z915E is a part of the E Series line of mowers and offers a number of essential features. This mower is specifically designed for durability, and it comes with 7-Iron™ II mower decks for top cut quality.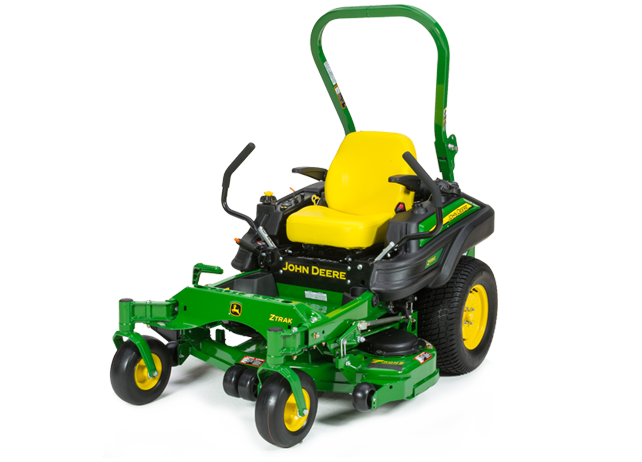 Let's take a look at some of the other key features of the John Deere Z915E and what it offers in terms of lawn care.
Heavy-Duty Frame
The Z915E has a heavy-duty and thick-gauge steel channel mainframe. This means that it is unlikely to wear down over time. The Cast I-beam caster arms are designed for durability, and the frame itself is wide open for easy maintenance and cleaning.
Commercial Grade Engine
With a 25-horsepower engine, the Z915E delivers commercial grade performance. It has an overhead valve design that provides more horsepower and torque per cubic inch of displacement. In addition, the engine complies with EPA and CARB emissions standards, and it has an oil filter that keeps its oil clean for a longer life.
Michelin® X® Tweel® Tires
The John Deere Z915E has Michelin Tweel Turf rear tires, which eliminate downtime and ultimately reduce the cost of operation. The airless radial tire improves mowing performance and reduces rutting. It has more support across its surface for heightened flotation and enhanced ground contact. Without inconsistent tire pressure, the mower is also in a better position to provide a more consistent cut quality.
Advanced Air Filtration
All ZTrak Z900 mowers, including the John Deere Z915E, are equipped with a dual-element, canister-style air filter. The filtration system is designed to reel in clean air from above the engine and filter out dust that can potentially damage it over time. The filters can be easily accessed in the back of the mower.
Hydrostatic Drive
This mower has a hydrostatic drive with 13-cc unitized hydraulic pumps, which are combined with heavy-duty wheel motors. One pump and motor drive the wheels on the mower. This results in more space under the seat and efficient cooling in high load conditions.
Height-of-Cut Adjustment
The John Deere Z915E features a simple height-of-cut adjustment system that can be adjusted right from the operator's seat. The knob allows the cutting height to be adjusted from about 1 inch to 5.5 inches. Each increment adjusts the cut by 0.25 inches. The deck of the mower can also be raised and locked in the transport position as necessary for maximum ground clearance.
If you have any questions about the Z915E or other ZTrak mower models, contact your local John Deere dealer.
If you enjoyed this post or want to read others, feel free to connect with us on Facebook, Twitter or Google+!
You might also like: