Home
Gators & UTVs
Everything You Need to Know about John Deere HD200 and HD300 SelectSpray
If you're looking to take your spraying to the next level with more options and flexibility, the John Deere SelectSpray Series is worth considering. Both the HD200 and HD300 models aim to provide customers with more choices than other sprayer lines.
Some of these essential options include the choice of a high-quality centrifugal or diaphragm pump, a 200- or 300-gallon tank, and an advanced automatic or reliable manual rate controller. This specialty equipment provides extra flexibility by allowing you to use your ProGator for more than spraying. Quickly and easily detach the sprayer to use your utility vehicle for other operations on the course.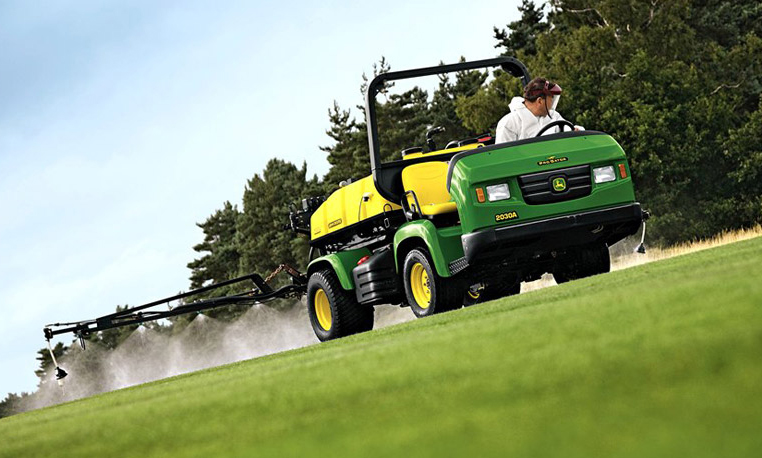 In order to get the most out of your utility vehicle, you must have a solid understanding of how to operate the SelectSpray Series properly. Check out the video below to learn almost everything you need to know when it comes to operating the John Deere HD200 and HD300 – available for the John Deere ProGator.
Before Operating the John Deere HD200 & HD300
Here are some of the key elements that the video above will cover:
Proper Safety: This should be top-of-mind when operating any machinery on the golf course since you are responsible for your own safety and the safety of those around you. While the video above covers some of the basics like parking safety, chemical handling, and proper personal protection equipment, be sure to read through the operator's manual for all of the details.
Features and Options: This series offers you choices. For example, the John Deere HD200 offers you a 200-gallon spray tank, while the HD300 has a 300-gallon tank. Check out the video above for an overview of the many different options available to customers.
Automatic & Manual Rate Controllers: Both models come available with a choice of a manual rate controller or automatic controller. Here you can learn how to use both controllers and even get an overview of the key features in each controller.
Spray Tip Selection: As you probably already know, there are many types of nozzles and tips available through the John Deere Spray Master Program, and selecting the right ones can get tricky. In this section of the video, you'll learn about the different types of spray tips available – everything from flood style spray tips to ultra low-drift spray tips and more.
Attachments: There are other attachments available for the John Deere SelectSpray that will help make your operations even more convenient. For example, the CleanLoad Eductor in order to load chemicals quickly and easily at a lower loading height.
Maintenance: Regular maintenance will keep your SelectSpray in top-notch condition. Here's what you should do before and after each use. Watch the video above for all the details.
We hope this post helps you achieve even more productive spraying operations. Did we miss anything when it comes to operating the John Deere HD200 & HD300 SelectSpray? We'd love to hear your thoughts in the comments below.
If you enjoyed this post or want to read others, feel free to connect with us on Facebook, or Twitter!
You might also like: