Whether you're moving rocks, dirt, mulch, snow, gravel, or any other type of loose material, one thing remains consistent: you need a bucket to help get the job done.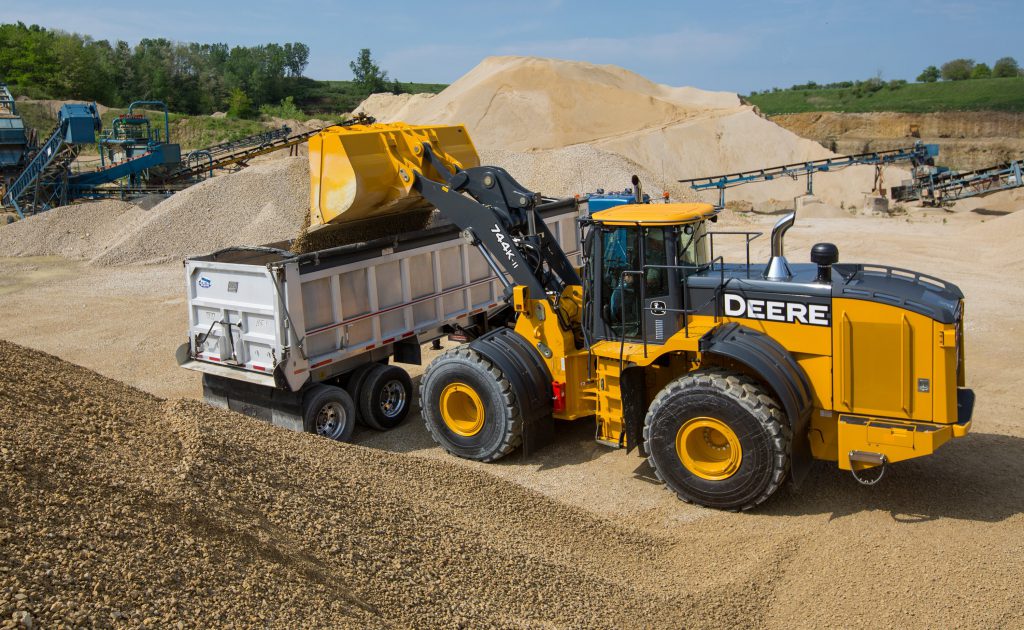 While John Deere offers many different bucket options for its equipment lines, a few new additions recently hit the market to lengthen their list of offerings. Let's take a look at the recent additions.
Four-Wheel Drive Loaders Welcome New Bucket Additions
With enhancing productivity and efficiency for John Deere 744K-II, 824K-II and 844K-III wheel loader operators in mind, Deere added 30 new bucket options to its lineup. The new lineup includes features such as:
Improved bucket profile
Integrated narrow spill guards
Bushed static bucket pin joints
Optional wear plating
Additionally, the new bucket options were designed to match customer demand for improved loading capabilities and overall visibility. The new bucket models feature curved profile side cutters that improve material collection and allow the bucket to easily fill loose material. The narrow spill guards make it easier for the operators to view the load as they work and determine when the bucket is filled.
John Chesterman, product marketing manager, production class four-wheel drive loaders, John Deere Construction & Forestry, said at the time of the release, "In speaking with wheel loader users in the field, they drove home the fact they wanted a bucket option that would increase production and offer greater efficiency in material retention."
G-Series Skid Steers and CTLs Get a Productivity Boost
Shortly after the introduction of the new wheel loader bucket options, Deere also introduced a new 90-inch Light Material High-Capacity Bucket (LM90) for G-Series skid steers and compact track loaders (CTLs). Part of the Worksite Pro™ attachments lineup, this bucket features a high back for more capacity to take on larger piles of snow, mulch, dirt, or other piles of loose material.
Gregg Zupancic, product marketing manager, John Deere Construction & Forestry, said at the time of the LM90's release, "Customer feedback to the new G-Series machines has been extremely positive because they are powerful and highly productive. When equipped with a Light Material High-Capacity bucket, that productivity is magnified, making these machines capable of working just as hard as a larger piece of construction equipment."
The 90-inch bucket can carry 54 cubic feet of material at once, making it larger than previous John Deere offerings. Even if you aren't carrying a big load, this amount of capacity will reduce spillage as you work.
Final Thoughts
The recent addition of these John Deere bucket options is further evidence that Deere is listening to their customers when developing new products. Contact your local John Deere dealer if you're looking for more information about these or other John Deere bucket options.
If you enjoyed this post or want to read others, feel free to connect with us on Facebook, Twitter or Google+!
You might also like: