John Deere's line of Zero-Turn mowers is designed to provide comfort and efficiency to contractors in all lines of work. The John Deere Z950R delivers on these fronts with features, such as Mulch On Demand™ and comfort and convenience controls.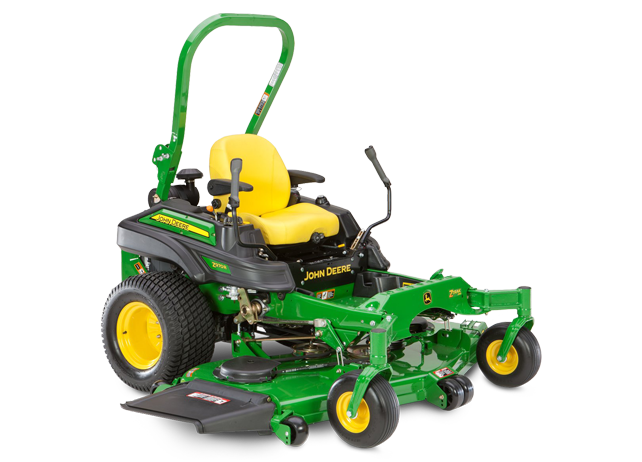 Let's take a look at some of the highlights of the Z950R.
PRO Mower Decks
This mower is equipped with a 7-Iron™ PRO mower deck, which allows operators to achieve a clean cut in a wide variety of terrain conditions. The deck is stamped with 7-gauge steel to minimize the number of welds, providing a smooth underside with fewer sharp corners. In turn, this means less material build-up for operators.
Seat Options
Owners can choose between a suspension, deluxe and isolation seat for their mower. The standard and isolated seats have springs for improved comfort during operation. The full suspension seat has lumbar support and an adjustable back angle.
Mulch On Demand
The Mulch On Demand mower deck of the John Deere Z950R gives users the ability to switch between side discharge and mulching operation with a single lever. This means less downtime and more productivity on the job.
Powerful Engine
The engine of the John Deere Z950R provides 27 horsepower, and it has a vertical shaft design for effective air cooling. It also includes a 15-amp alternator and aluminum block engines, and it complies with Environmental Protection Agency emissions standards.
Comfort and Convenience Handles
The comfort and convenient Handles of this mower have built-in electronic controls, meaning operators can make changes to the mower right from their seat. They can raise or lower the mower deck on a whim, or disengage mower blades with a few motions.
Michelin® X® Tweel® Turf Tire
The Michelin X Tweel Turf rear tire can be used with the John Deere Z950R to improve performance and reduce rutting. The tire also improves uptime (no flat tires), eliminates costs associated with maintenance, and uses a tire tread designed to last up to three times longer than a standard model.
Optimal Spindle Construction
The mower's three 1-inch spindles are cold-forged and heat-treated. This means they're specifically designed to provide an ample amount of strength. They are also supported by ball bearings for even more durability and a longer lifespan.
If you have any questions about John Deere Z950R or other Zero-Turn mowers, contact your local John Deere dealer.
If you enjoyed this post or want to read others, feel free to connect with us on Facebook, Twitter or Google+!
You might also like: