When it comes to baling, operators want the most efficient, reliable equipment on the market to get them through the season. The John Deere 960 baler is one of the most durable and productive options for professionals who want to get the job done right.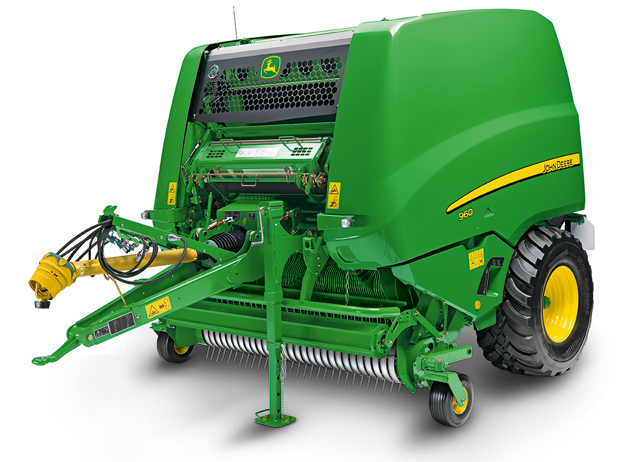 Let's take a look at some of the key features of the John Deere 960 baler and how it makes a difference out in the field.
Advanced Net System
All 900 Series balers from John Deere have a patented high-efficiency net tying system. It does not have traditional rubber feeding rollers, which can occasionally cause net plugs. A duckbill pinches the net directly fed between the two front rolls of the bale chamber. When the net is caught by the bale, it covers it entirely. A knife-and-counter system provides an accurate net cut and eliminates irregular net tears.
Full-Frame Design
The John Deere 960 baler has a full frame to hang all of its components, resulting in more durability over time. The load, shocks and stress are all carried by the frame, rather than individual components. In addition, the bale chamber is isolated from other constraints, giving it a longer lifespan.
Simple Design
The simple design of the John Deere 960 baler makes it perfect for operators who want no fuss when it comes to their equipment. The gearcase is not linked to the driveline with yokes, but rather integrated into the frame. Fewer sprockets and less chains mean less wear and potential downtime. The baler also has an automatic chain lubrication pump, which allows for independent chain lubrication settings. All chains are continuously oiled for more durability over time.
Fast Release System
The fast release system of this baler reduces unloading time to less than five seconds. In turn, this results in more bales per day, increasing operator output. The fast release system provides a light structure that opens the chamber quickly and instantly removes belts from the bales.
High Feeding Capacity
The John Deere 960 baler has a high feeding capacity, thanks to its rotor design. Converging augers are integrated with rotor limit free space between the pickup teeth and rotor. The rotor is also designed to work on tough crops and in difficult conditions, such as crossing windrows. Loads are distributed all along the rotor for overall reliability.
If you have any questions about John Deere 960 baler or other combines, contact your local John Deere dealer.
If you enjoyed this post or want to read others, feel free to connect with us on Facebook, Twitter or Google+!
You might also like: