There are plenty of challenges when it comes to aggregate and material handling jobs, but your equipment shouldn't be one of them. If you're looking for rock-solid performance and serious productivity, it's about time you meet the John Deere 844K aggregate handler.
With bigger buckets and more powerful specs, this machine is designed for the toughest aggregate and material moving jobs. In just two short passes, the 844K can load out 24 tons of non-heaping, lower-density processed matter. When dealing with heavier and denser materials, the loader can handle 12 tons with no problems.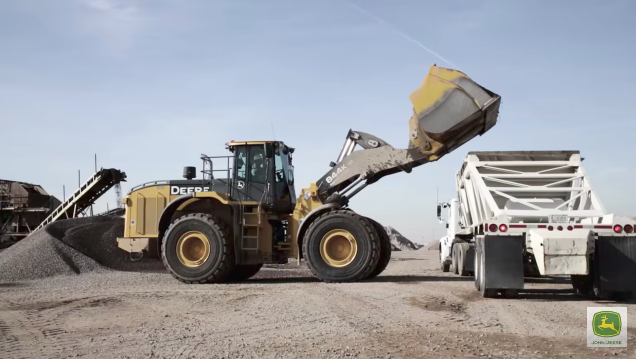 To provide you with even more information about the advantages of using the John Deere 844K aggregate handler, we've put together this post. Here, we'll go over the following benefits and features:
Increased Engine Power
Increased Hydraulic Pressure
More Productivity
Better Serviceability and Uptime
You'll also have a chance to see the machine in action in the video below. Enjoy!
Increased Hydraulic Pressure
Speed up your job (even on tough aggregate piles) with hydraulic force, engine power, and torque.
Boost productivity with improved hydraulic plumbing and bigger articulation joint and linkage pins.
Reduce friction and the number of troublesome connection points with more than 36 steel tubes that replace 81 feet of hoses.
Simplify replacement and component exchange by eliminating long hoses with bulkhead fittings.
Experience overall longer wear life due to the hydraulic tank being positioned behind the cab for easy access, and hoses routed away from other important components.
Increased Engine Power
Tackle tough stockpiling and digging tasks with a diesel engine that is fit for any job – the John Deere PowerTech.
Simple, efficient and integrated technology to support your operations. It leverages exhaust gas recirculation (EGR), high-uptime exhaust filters, and selective catalytic reduction (SCR).
Optimize your machine's power and fuel efficiency. This five-speed transmission with torque-converter lockup in gears 2–5 also increases acceleration and speeds cycles.
More Productivity
Shorten the fill time in processed aggregates, better retain loads and conserve fuel with bigger material-handling buckets.
As mentioned above, the material handling bucket can load out 24 to 26 short tons of non-heaping, lower-density processed matter in two quick passes. It can tackle 12 to 13 tons with heavier materials.
Make quicker work of tough aggregate piles with better hydraulic forces, engine power, and torque. Tilt cylinders are also 12% larger to help provide even more breakout force.
Low center of gravity and optimized fore-and-aft balance deliver solid stability and full-turn tipping-load capacities.
Increase productivity and get smooth gear changes in almost any conditions with transmission shift logic and new adaptive clutch cutoff.
John Deere PowerTech is a fuel-efficient engine that helps get generous displacement, power and lugging ability.
Better Serviceability and Uptime
The Quad-Cool design puts coolers in an isolated boxed configuration that's protected from engine heat.
Eject debris from the cooler cores with a standard hydraulic reversing fan that automatically reverses at predetermined intervals or can be programmed.
In case something goes wrong on the jobsite, the intuitive LCD monitor displays messages and offers potential solutions to get back to work as soon as possible.
Avoid tire wear and replacement cost with access to tire pressures and temperatures on the monitor and remotely through JDLink™ Ultimate.
We hope this post gave you a better understanding of the many benefits and features incorporated in the John Deere 844K Aggregate Handler. If you enjoyed this post or want to read others, feel free to connect with us on Facebook, Twitter or Google+!
You might also like: