John Deere has announced two new additions to its G-Series motor grader lineup – the 620G/GP and 622G/GP. The models were on display at the CONEXPO-CON/AGG 2017, and attendees had the opportunity to check out their new features.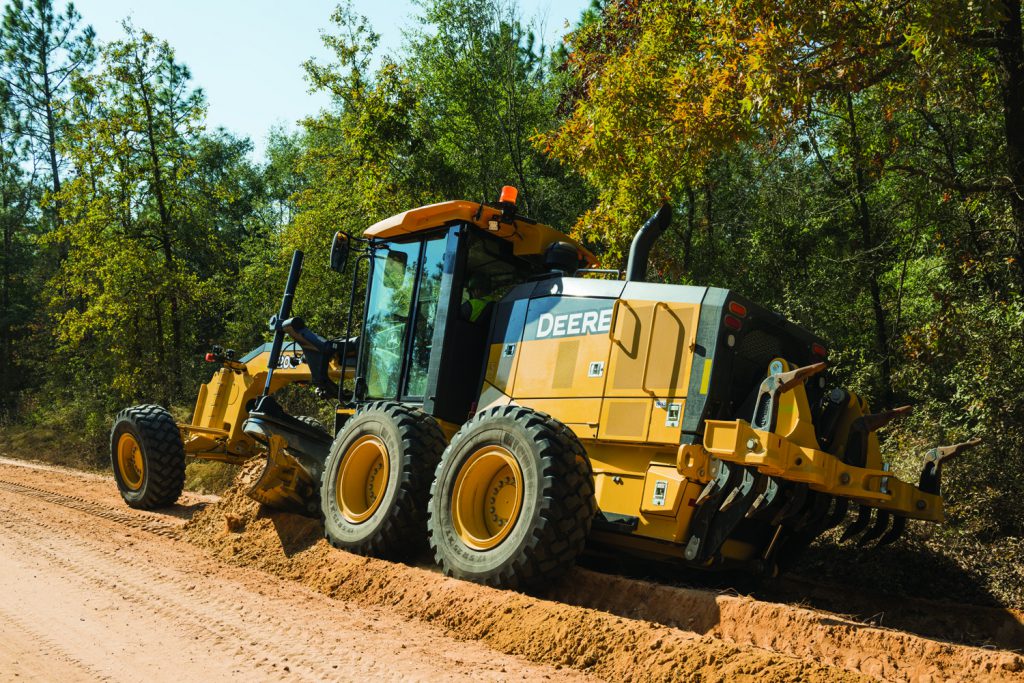 A dual joystick option was added to all of the Grade Pro models, as well as ripper-stow automation, and courtesy lighting. The 620G/GP and 622G/GP are specifically designed for contractors working in cities and towns that may need more fuel-efficient graders for their job.
"Our G-Series lineup is all about offering contractors and governmental customers the grader of 'choice,' allowing them to choose the right machine for their application. Customers asked for a lighter and more fuel-efficient grader, and the 620G and 622G answer the call," said Luke Kurth, product marketing manager of motor graders for John Deere Construction & Forestry.
"We're enthusiastic about the new dual joystick option as well. Now operators and owners can select from the traditional antler rack mechanical controls, interchangeable GP fingertip controls or dual joysticks, whichever they prefer and are most productive with — all while retaining the steering wheel."
All G-Series models have bulkhead connectors, sensor mounts, electrical wiring harnesses, integrated controls, and moldboard mast mounts. Ultimate Uptime, featuring John Deere WorkSight, can also be used with G-Series motor graders.
John Deere 620G/GP
This G-Series motor grader has a 6.8-liter PowerTech™ engine and hydraulic brakes. It comes with eight forward speeds, as well as eight reverse speeds. A standard hydraulically driven cool-on-demand reversing fan slows the engine to idling to reduce fuel consumption.
It has an all hydraulic power frame for the utmost maneuverability, and it is specifically designed for stability on sloping terrain. The PowerShift Plus transmission allows operators to seamlessly change gears on the go, and the transmission reservoir is independent, with separate filtration as well.
John Deere 622G/GP
The John Deere 622G/GP has a Final Tier 4 certified engine, with an optional hydraulically driven cool-on-demand reversing fan. With its six-wheel drive configuration, the weight of the machine is evenly distributed across all six tires for more productivity and easier maneuverability.
The 622G/GP has a ball-and-socket draft-frame pivot, as well as a seven-position saddle. This provides an ideal blade setup with improved ditch cutting ditch cleaning, and reach beyond the tires.
With its Powertrain, the automatic differential lock of the machine stays engaged while traveling straight. Operators can use a toggle switch to move out of fully automatic mode whenever necessary.
If you have any questions about the 620G/GP, 622G/GP or other John Deere motor graders, contact your local John Deere dealer.
If you enjoyed this post or want to read others, feel free to connect with us on Facebook, Twitter or Google+!
You might also like: