John Deere offers a wide range of motor graders to help its customers tackle all of their daily tasks while out in the field. John Deere SmartGrade Motor Graders are fully integrated and calibrated right in the factory, meaning they arrive on the jobsite ready to go. With in-cylinder position sensing, these machines are also made to stay on grade, regardless of the blade pitch.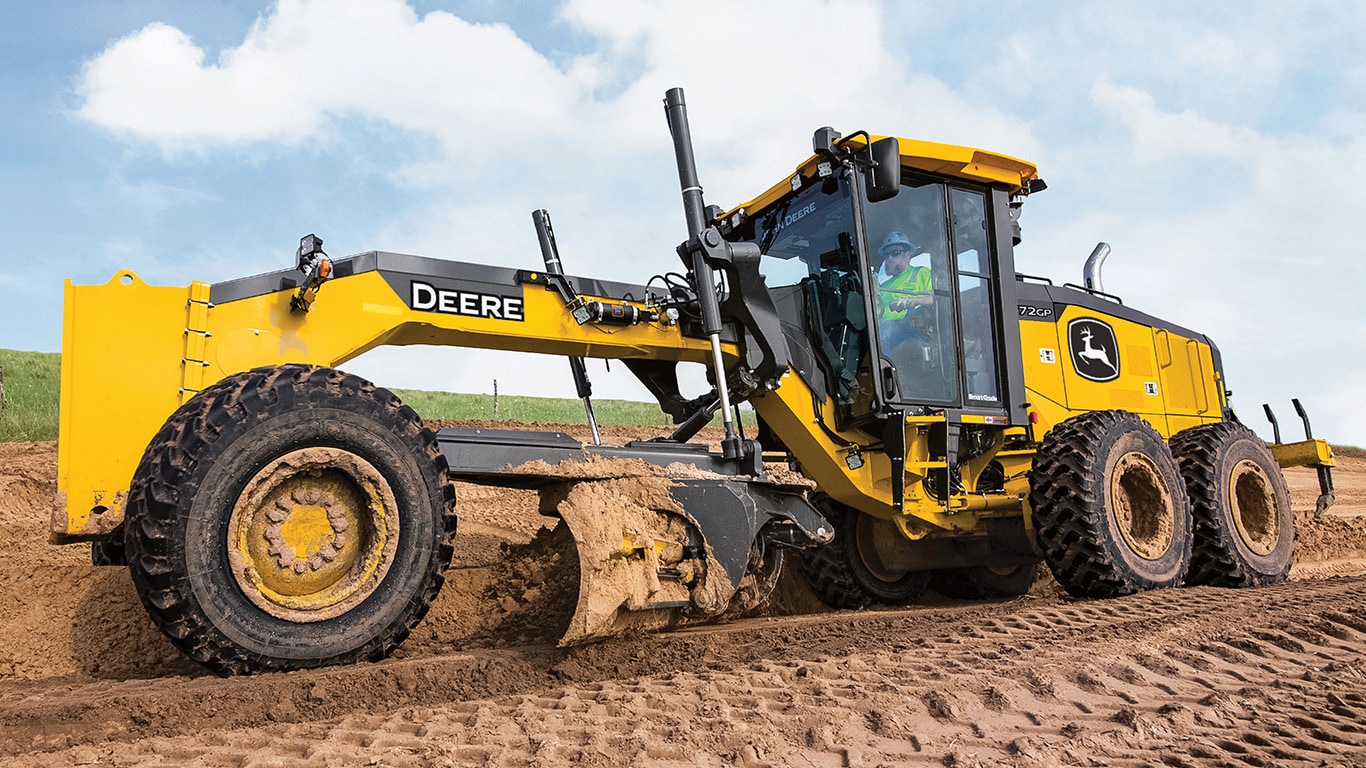 What is a Motor Grader Used For?
A motor grader is sometimes referred to as a road grader. It is a self-propelled machine that comes with an adjustable blade. The blade, which is typically positioned between the front and rear axle, can be used for spreading, cutting, and leveling material. The machines are typically classified according to their frame structure. Those with only one axle are considered rigid frame motor graders. When the machine has a hinge between the front and rear axle, it is deemed an articulated frame motor grader. These specific models are ideal when working in areas that require operators to make tight turns.
Most commonly, motor graders are used for road maintenance, but they are applicable in any scenario that requires the movement of earth. Some people use motor graders to move snow, as well. These machines excel in trenching, ditching, land grading, and scarifying.
How John Deere Motor Graders Have Evolved Through Time
John Deere rolled out its first front-wheel articulated-frame-steering motor grader in the 1960s: the JD 570. However, it wasn't until a decade later that the company revealed its first hydrostatic front-wheel drive motor grader. By the 1980s, Deere's motor graders had variable horsepower, and customers no longer had to work with a welded-on saddle frame. The PowerShift Plus™ direct-drive countershaft transmission appeared in the 1990s, and by the new millennium, Deere was ready to roll out its largest models yet, the 870D and 872D. It was then that the company also rolled out electronically-controlled high-pressure fuel delivery and event-based shifting. In the 2010s, customers saw John Deere motor graders with fingertip controls and cross-slope control.
To this day, SmartGrade™ gives Deere motor grader owners even more control over their jobsite.
John Deere Motor Grader Technology
John Deere motor graders have several features that give them a competitive edge. Let's take a look at some of what customers can expect when they invest in one of these pieces of equipment.
Auto-Shift PLUS
With Auto-Shift PLUS, operators can use the throttle and brake to control the entire machine – a first in motor grader history. Because of this, customers no longer have to concern themselves with using the inching pedal, manually selecting gears, or stalling the machine.
Machine-Damage Avoidance
Machine-Damage Avoidance is exclusive to John Deere motor graders. Blade movement is ultimately limited, preventing damage to steps, structures, and tires, even in the most complex machine positions. In turn, customers can shift their focus to making the grade.
Auto-Pass
Deere has automated machine movements, including raising, rotating, and flipping the angle of the blade. This means that customers can make these adjustments at the press of a button. This feature now comes standard on all John Deere Grade Pro models, as well as all SmartGrade machines.
Blade Stow
Blade Stow is now a part of Machine Presets on John Deere motor graders. This means that operators can easily prepare their machine for transport at the push of a button. The feature stows the blade and ripper, turns on the lights, automatically raises the moldboard to a predetermined angle, and enables Auto-Shift all at once.
John Deere Motor Grader Models
John Deere offers a full line of motor grader models, consisting of:
They have max net powers ranging from 215 horsepower to 300 horsepower, depending on customers' specific needs. Their blade pull also ranges from 31,066 pounds to 49,500 pounds, highlighting the amount of power these motor graders have. SmartGrade is available on all models, and customers can also opt for additional precision construction technology offerings to make the job a little easier out in the field.
If you enjoyed this post or want to read others, feel free to connect with us on Facebook, Pinterest, Twitter, or Instagram!
You might also like: