The John Deere 640FD is one of the many drapers from Deere that can help producers improve everyday operations. The HydraFlex™ draper is specifically designed to reduce grain loss and crop knock-down for more efficiency. Its features can also reduce downtime and overall cost of operation.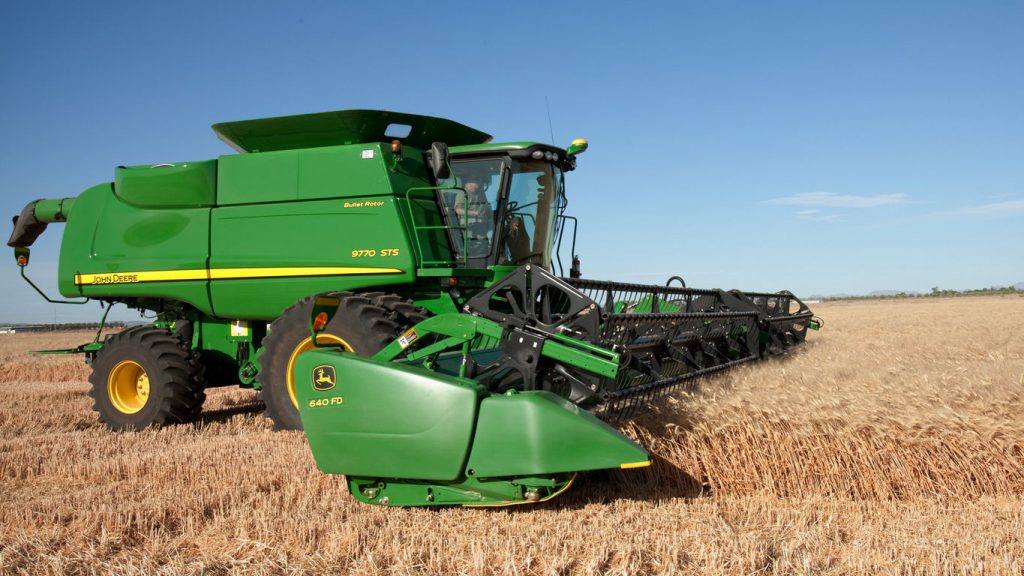 Let's take a look at some of the highlights of the John Deere 640FD.
CommandARM™
With CommandARM controls, operators can easily control and maneuver the John Deere 640FD from inside of the cab. The speed of the side draper belts can be adjusted as needed, and combine software makes it simple to slow them down to a fixed speed. The draper belt protection system is also integrated into the draper's platform to minimize side belt damage in the event of slippage.
Wide Feed Drum
The feed drum of the John Deere 640FD is 16 inches, and its size improves crop hand-off from the draper belts. Improved material handling translates into more productivity for operators. A feed drum retractable auger finger also enhances crop feeding at the corners of the feed drum. In difficult conditions, this smooths feeding and increases the overall performance of the draper.
Dual Knife Drive
The dual knife drive comes standard on the HydraFlex draper platform. This makes for optimal harvesting of rice, tough crop, and wet or green crop conditions. The knife-drive system is timed, making for one of the smoothest possible reciprocating knife drive systems on the market. The power take-off shaft-driven, dual epicyclical in-line knife drives are also extremely strong and durable.
HydraFlex Technology
The HydraFlex technology of the John Deere 640FD utilizes a hydraulic float system for superior ground following capabilities. The float of the cutterbar can be adjusted with a single knob in the cab. Unique cutterbar float arms support the cutterbar itself, as well as the draper belts for enhanced productivity. The HydraFlex system allows the operator to make adjustments without impacting the cutting height of the crop, even at high ground speeds.
Accessories and Attachments
There are a number of attachments and accessories that can be used with the John Deere 640FD. The platform wedge kit is compatible with the draper, for example, along with the reel position resume for the minimization of header losses. The Feed Drum Anti-Wrap Bundle can also be utilized with the draper, as well as the top crop conveying auger for particularly bushy crops.
If you have any questions about the John Deere 640FD, contact your local John Deere dealer.
If you enjoyed this post or want to read others, feel free to connect with us on Facebook, Twitter or Google+!
You might also like: