The 2017 Sunbelt Ag Expo will be hosted between October 17 and 19 at Spence Field in Moultrie, Georgia. In its 40th year, the expo is held to exhibit industry products and innovations from agricultural experts across the industry. On October 17 and 18, attendees will be able to visit between 8:30 a.m. and 5 p.m. Visitors who come on October 19 can attend the expo between 8:30 a.m. and 4 p.m.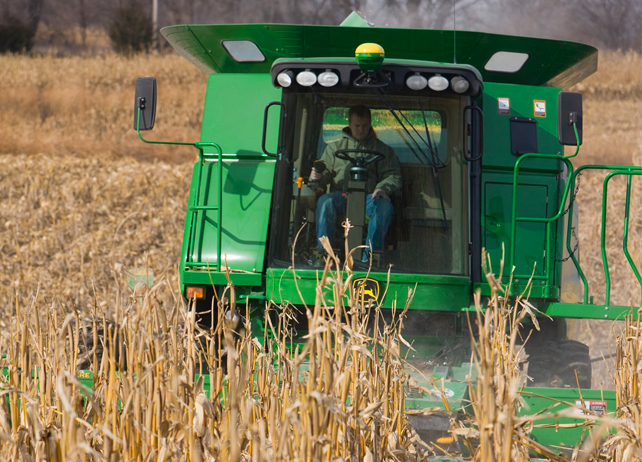 Overview
There are more than 1,200 exhibitors participating in the 40th Sunbelt Agricultural Expo. The event, which takes place on a 600-acre working research farm, will have more than 100 acres dedicated to exhibits. There will be ATV test-driving tracks, as well as space to test out lawn and garden equipment. Guided tours and family entertainment will also be available throughout the event.
Equipment
John Deere will have its AutoTrac™ RowSense™ product on display at the event, as well as AutoTrac Vision. Attendees will get a better idea of how these products can help agricultural professionals vary seed, fertilizer and herbicide application for more efficiency out in the field.
In addition, John Deere will have its Auto-Connect™ mower deck on hand. The John Deere Gator XUVs will also be at the event – attendees will be able to experience them first-hand at the Go Gator Ride and Drive Test Track between 10 a.m. and 4 p.m. each day.
"With more options than ever before, the John Deere XUV portfolio allows operators to check off more chores from their to-do lists," explains Mark Davey, marketing manager for Gator Utility Vehicles.
Kiosks and Demo Stations
John Deere will be located at Booths A-1 and A-2 at the expo. At the booths, there will be educational sessions designed to inform attendees on how items, such as AutoTrac RowSense, can improve agricultural productivity.
In the Field Demonstrations area, visitors will be able to test the Auto-Connect mower deck on a sub-compact utility tractor. Attendees will also have the opportunity to test-drive a compact utility tractor or Gator when visiting John Deere at the event.
Educational Sessions
At the John Deere booths, experts will be on hand to discuss maximizing yield and profitability with visitors. Presentations will be held each day of the Sunbelt Ag Expo at 9 a.m., 10 a.m., 11 a.m., 1 p.m. and 2 p.m.
Where to Find Deere
John Deere products and experts will be available at company booths located at A-1 and A-2 in the exhibition space. The booths are near the shipping and receiving area for the expo.
If you have any questions about John Deere or its equipment, contact your local John Deere dealer.
If you enjoyed this post or want to read others, feel free to connect with us on Facebook, Twitter or Google+!
You might also like: