The World Ag Expo has been held for more than 50 years, and this year, the goal remains the same – to encourage conversations on the latest innovations in the world of ag for the benefit of producers and consumers alike. The organizers of the expo believe that when their exhibitors succeed, their attendees and farmers transform their operations, and consumers are "positively impacted by the increased efficiency and the continuous re-evaluation of 'what we've always done.'"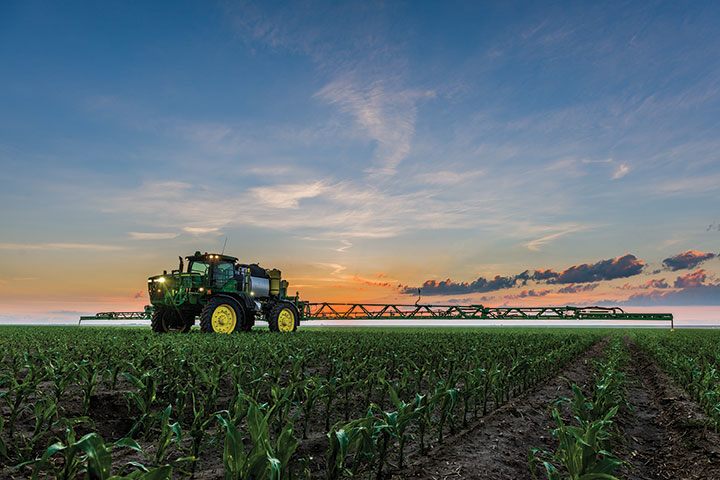 This year's expo will be held between February 13 and 15. The first two days of the event will be open to the public between 9 a.m. and 5 p.m.; the final day of the expo will be held from 9 a.m. to 4 p.m. Each year, the World Ag Expo is hosted at the International Agri-Center in Tulare, California. Admission to the 2018 World Ag Expo is $15.00 at the gate, and children under 6 are admitted for free.
Overview
Originally, the World Ag Expo began back in 1968 and was held at the Tulare County Fairgrounds in Tulare, California. It consisted of 157 exhibitors and 28,000 attendees in its first year and continued to grow every year afterward. In 1972, the first foreign manufacturers began taking part in the event, and as expansion moved forward, a facility was constructed to house the exposition. Today, the World Ag Expo attracts attendees from around the globe.
Equipment
At this year's World Ag Expo, John Deere will be exhibiting harvesting machinery and equipment, as well as tractors, tractor parts, accessories, and services.
Kiosks and Demo Stations
Those who visit the John Deere booth will be able to view all of the harvesting machinery and equipment on display throughout the event. This will also be the primary spot where attendees can learn more about Deere's tractors and accessories.
Educational Sessions
Several agriculture tours and seminars led by agricultural professionals and thought leaders will be held throughout the World Ag Expo. A full schedule of events will be published prior to the expo.
Where to Find Deere
The John Deere booth is located between "P" Street and "O" Street at the International Agri-center. It can also be found by walking along the North Green Belt between Exhibitor Lounges 1 and 2.
If you have any questions about John Deere or its equipment, contact your local John Deere dealer.
If you enjoyed this post or want to read others, feel free to connect with us on Facebook, Twitter or Google+!
You might also like: