When producers need a tractor that can take on long work days, the John Deere 8320R is one of the most viable options on the market. This tractor comes with either 16-speed PowerShift, e23 PowerShift or Infinitely Variable Transmission to cater to operators' needs. Its 320 engine horsepower also packs a punch, and it works seamlessly with JDLink™ to provide users with up-to-the-minute performance information.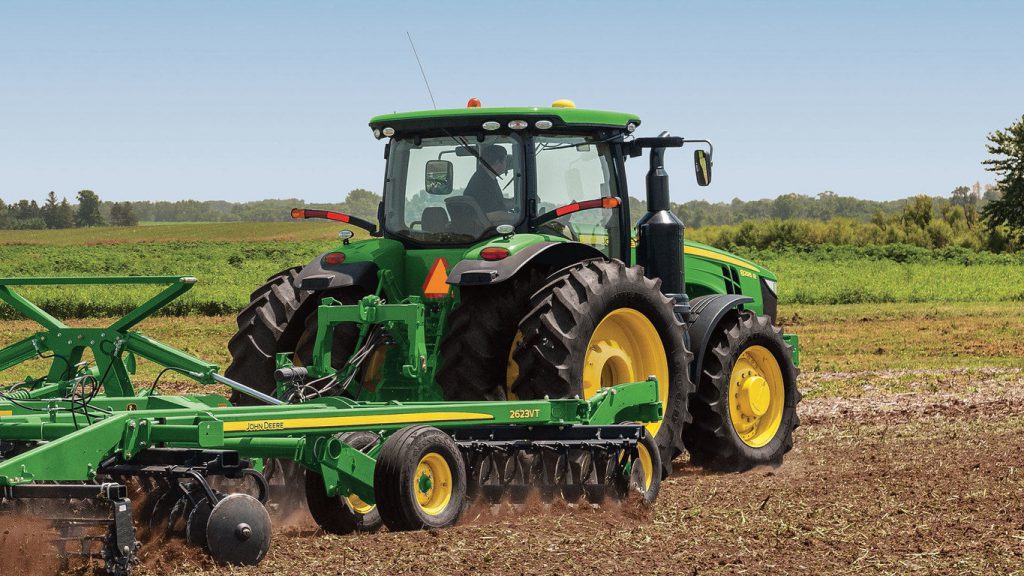 Let's take a look at some of the attachments that work with the John Deere 8320R.
9-Pin Connector Implement Feedback
This attachment works with TouchSet™ depth control to allow operators to adjust the height and depth of remote lift cylinders. Its harness provides a position input to the tractor selective control valve unit.
Battery Disconnect
Operators who store their John Deere 8320R for an extended period of time will want to invest in the battery disconnect. Its switch disconnects the batteries to prep for 20-day to 90-day storage periods. Power to the entire tractor is cut, which helps maintain the equipment's battery life.
Implement Switch
This attachment is essential if operators are using other implements with the John Deere 8320R. The switch tells CommandCenter when the implement is raised or lowered. This allows for more accurate data collection when a performance monitor is in use.
Mounting Kit for Radar with Dual Beam Sensor
This comes with two horns for the exit of the radio beam, creating a dual-beam design for a more accurate signal. A heavy-gauge mounting bracket and rubber isolators also increase accuracy by reducing vibration.
Engine Block Heater
The engine block heater is optimal for operators who will be using the John Deere 8320R in cold climates. It is recommended for tractors that are frequently started at or below 21.2 degrees Fahrenheit. It comes with a factory-installed activation switch and an ether valve with ether canister.
Rear Fender Extensions
These rear fender extensions provide more mud control by increasing the coverage over the rear tires. They come in either 2.55-meter or 2.75-meter widths.
Xenon HID Rear Fender Light
The Xenon high-intensity discharge bulbs provide illumination in a hue similar to daylight for maximum visibility out in the field. With these lights, operators can see as much as 250 percent farther ahead, compared to previous tractors. The life of the bulbs is also 10 times longer than filament-style bulbs.
If you have any questions on John Deere 8320R or any of its attachments, contact your local John Deere dealer.
If you enjoyed this post or want to read others, feel free to connect with us on Facebook, Twitter or Google+!
You might also like: