Agricultural professionals who want a tractor they can rely on for years to come may want to consider investing in the John Deere 8270R. This tractor comes with the latest technology to provide the perfect amount of power and efficiency in a wide range of conditions.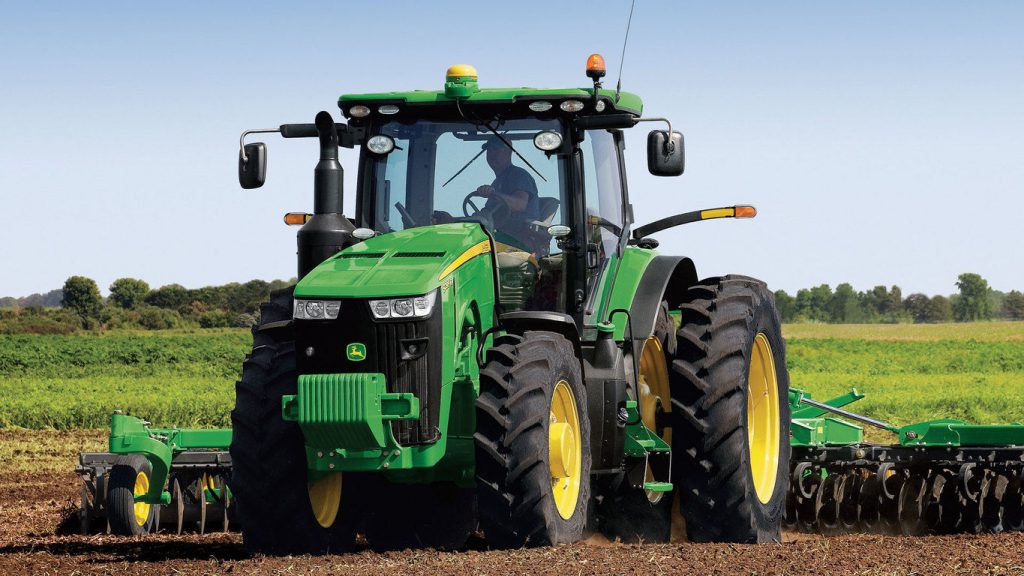 What are the 8 Series Tractors?
John Deere 8R series tractors have many different model types. This includes the 8245R, 8320R and more. The newer models are ideal for farmers due to their many features, which include:
More power than ever due to improved horsepower 

Increased comfort and control because of new cab options 

Smoother ride due to new tire options
Key Features of the John Deere 8270R
Let's take a look at some of the features of the John Deere 8270R and how it can help with tasks out in the field.
CommandARM Controls
The CommandARM Controls of this tractor make it easy to maneuver the vehicle. There is an engine throttle, transmission control, power take-off controls, and a rotary encoder hitch control. The CommandARM's design also allows for a 40-degree right seat swivel for convenient operation. 
The CommandARM is specifically designed to reduce fatigue. This feature means no more long days behind the farming equipment out in the field. These controls themselves are specially made so you can limit the amount of time that it takes to train operators on the machine. They are intuitive and easy-to-use.
Independent-Link Suspension (ILS) System
The ILS of the John Deere 8270R is specifically designed for heavy use. This system achieves more power on the ground, while improving ride and ballasting flexibility. This can help to decrease the tendency to power hop. The mechanical, electrical and hydraulic systems all work together in order to transfer power to the ground. Additionally, it gets more power to the ground with front tires that maintain contact pressure. In turn, there is also more ballasting flexibility and less potential to power hop.
CommandView III Cab
The John Deere 8270R comes with a Standard CommandView III cab, which provides the utmost visibility for safety and efficiency on the job. With a CommandView III cab, operators have the ability to easily control their machine. In addition to all of these features, the ComfortCommand seat provides extra comfort for a smooth ride all day long.
The ComfortCommand seat has air suspension, lumbar support, and an adjustable backrest. There is also behind-the-seat storage, a left-hand storage compartment, and right- and left-outside mirrors that can be adjusted as needed.
Hydraulic Pump Options
This piece of equipment comes standard with an 85-cc displacement integrated hydraulic pump, which provides 227.1 liters/minute of hydraulic flow. It is a closed-center, power-on-demand system that uses a load-sensing pressure-flow compensated axial piston pump. A dual-pump system is an alternative operators can opt for if they want to run their machine at lower engine speeds.
Optimal Lighting for the John Deere 8270R
The tractor has a cab lighting pattern that provides 330 degrees of coverage. This means more visibility in even the darkest conditions, and hood lighting provides additional illumination. The bulb housings are large, meaning operators get as much light as possible out of their fixtures.
Rear Power Take-off (PTO) Options
This tractor comes with a fully independent 45-mm, 1000-rpm PTO. The 20-spline shaft is specifically designed for high-power, heavy PTO loads that require horsepower greater than 150 PTO hp. There are also mechanical and electrical speed-change PTO options for operators who want more versatility and flexibility on the job.
If you have any questions about the John Deere 8270R or other mowers, contact your local John Deere dealer.
If you enjoyed this post or want to read others, feel free to connect with us on Facebook, Pinterest, Twitter, or Instagram!
You might also like: