More power to the ground, a comfortable ride and greater overall productivity are some of the highlights found within the John Deere 8020 Series, making them popular tractor models for those that are looking for a workhorse in the field.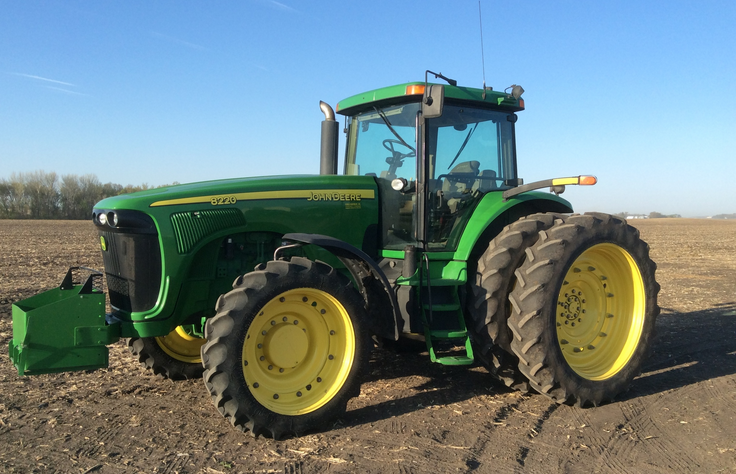 Let's take a deeper dive into the 8020's features and benefits that make it a popular option in the used tractor market.
8.1 L PowerTech™ Engine
John Deere 8020 Series Tractors house reliable 6081H Engines that deliver a constant PTO power range of 1500-2200 rpm, up to 43 percent torque rise and as much as 13 percent power bulge. Electronic fuel injection senses engine load and responds appropriately by generating more horsepower to pull through tough spots on the field as needed. The electronic fuel injection feature leads to less downshifting and more productivity.
Independent Link Suspension™ (ILS)
Providing unparalleled front axle performance, Deere's ILS is standard on the 8520 Tractor and available on 8120-8420 models. The system gets more power to the ground, improves ride and ballasting flexibility to decrease the tendency to power hop. This is done by the mechanical, electrical and hydraulic systems all working together to transfer power to the ground. These three systems work together to maintain a level, vertically centered position of the front differential case in relation to the outboard hubs and planetaries, independent of tractor weight or dynamic loading.
John Deere Active Seat™
Available on wheeled tractors only, this seat utilizes electrohydraulic technology along with air suspension to minimize operator movement. The seat has the ability to isolate the operator from up to 90% of vertical movements seen in common tractor applications. The Active Seat includes many of the features found in the ComfortCommand™ seat with the addition of a ride firmness switch. Located on the left armrest, this switch allows operators to select from three different levels of firmness, allowing them to ride across the field on a seat that's custom-tailored to their preference.
Automatic PowerShift Transmission
With a John Deere 8020 Series Tractor, gone are the days of manually shifting during significant load changes in the field and transport. When this feature is used, the operator will realize automatic shifting to maximize field performance and an overall improvement in fuel efficiency and productivity as well as a reduction in fatigue.
GreenStar™ Ready
8020 models are ready for the future, as they're equipped with a GreenStar Ready harness. As the use of precision farming expands, the GreenStar Ready wiring harness provides a foundation of system mobility.
Mechanical Front-Wheel Drive (MFWD)
John Deere designed and manufactured "auto" engage MFWD axle is standard equipment on 8320 and 8420 Tractors and optional on 8120 and 8220 tractors. It provides these advantages over two-wheel-drive tractors:
Greater drawbar pulling power and increased productivity.
Provides traction with less tractor ballasting for reduced soil compaction and increased fuel economy.
Can replace duals, allowing more "use" flexibility due to narrow width.
CommandARM™ Module
The CommandARM's single-lever shifting makes the shifting process fast, convenient, and safe. Shifts are made one at a time by either bumping the lever each time or pushing and holding lever. The operator presence feature prevents the transmission from going into gear while the operator is out of the seat.
While these aren't the only features and benefits of the John Deere 8020 Series, we hope this post provided a snapshot at what operators could have at their disposal following an investment in one of the five models.
If you enjoyed this post or want to read others, feel free to connect with us on Facebook, Twitter or Google+!
You might also like: