To build on the performance of its 2620 Series tillage tools, John Deere has created a 2630 Series of disks. The goal is to bring more control to light, medium and heavy-duty tillage operations. The John Deere 2630 Series disks also have TruSet™ Technology, meaning operators have control over tillage depth and pressure at their fingertips.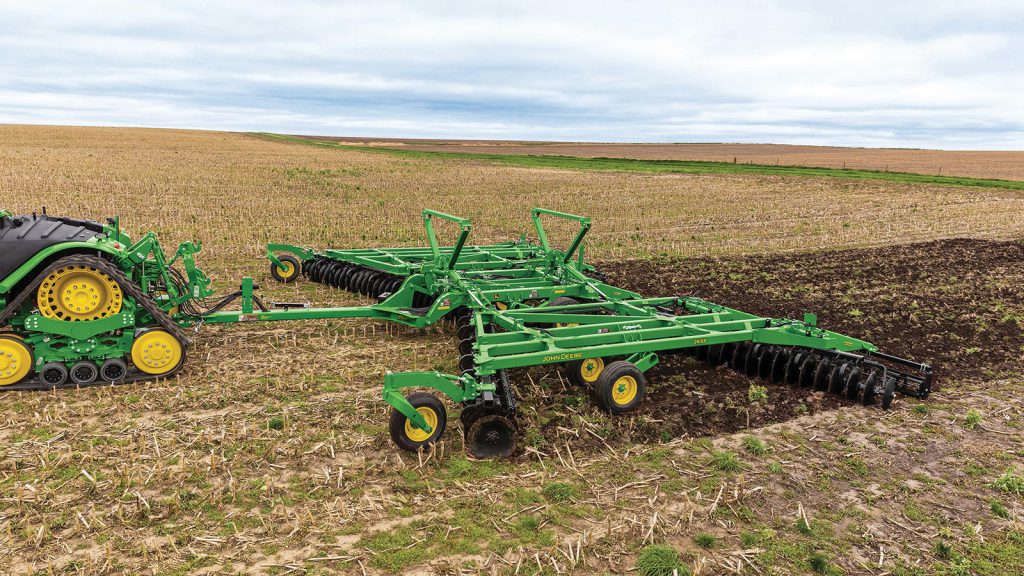 Let's take a look at some of the features of the John Deere 2630 Series disks.
Multiple Blade Options
Customers can choose from a solid-spherical blade or a cutout-spherical blade when selecting disks. These blade options allow operators to cater to various soil types out in the field. The solid-spherical blades are optimal for light to medium soils, while the cutout-spherical blades work best in heavy to medium soils.
TruSet Technology
TruSet Technology allows operators to make adjustments to their disks directly from their cab. Precise changes to down pressure and depth can be made within seconds. Operators can analyze field and crop information with data from TruSet Technology as well.
Radial Tires
Radial tires come on the mainframes, and they are optional for the wing frames and stabilizers as well. These tires offer longer wear life, meaning operators get more bang for their buck. Compaction is also minimized due to the wider footprint of the tire and lower inflation pressures.
Hydraulic Fore-Aft Leveling
Hydraulic fore-aft leveling is standard on the John Deere 2630 Series disks. This means that operators can easily level their disks from inside of the cab – no outside adjustments necessary.
Mechanical Wing Control
Mechanical wing control is a part of the base equipment for all five-section 2630 Series disks. A large spring is situated in the wing frame on each side of the disk. When the pivot point of the wing begins to rise, the spring presses against the point to keep the disk level. This offers optimal control during operations on rough terrain.
Various Basket Options
In addition to traditional round-bar and flat-bar baskets, operators can select a knife-edge hydraulic rolling basket option. This option works best in wet, heavy or rocky soil conditions.
Stabilizer Wheels
Operators can use stabilizer wheels with 2630 Series disks. These help maintain a consistent level depth, which is essential while working on rolling ground.
If you have any questions on John Deere 2630 Series disks or any of their features, contact your local John Deere dealer.
If you enjoyed this post or want to read others, feel free to connect with us on Facebook, Twitter or Google+!
You might also like: