When operating heavy machinery from John Deere, it's important to exercise a certain amount of safety and precaution. Doing so can ensure that no one is injured on the job. Precautionary measures are quick and easy to execute, and they can instantly give you peace of mind.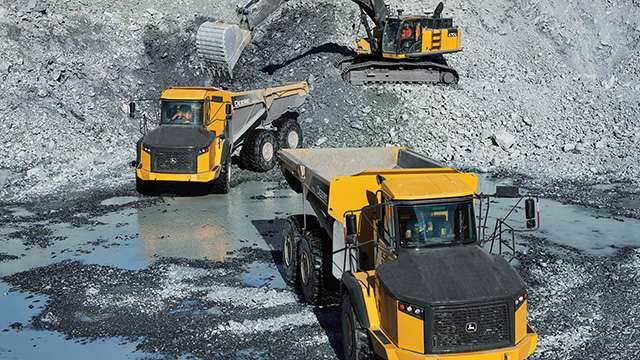 Let's take a look at a heavy equipment inspection checklist you can use to make sure everything is in working order.
Make sure the machine is parked on firm, level ground. Be prepared to take notes during the inspection.
Starting on the right side of the machine, walk all the way around it to inspect the appearance of the equipment. Look for any loose pieces of equipment, and clear the rearview camera lens if necessary.
Inspect the rollover protective structure. Look for signs of welding, bending or cutting. If the rollover protective structure was removed or loosened, reinstall it before continuing.
Check hardware torque and the isolation mounts for looseness, and replace if necessary before operating the machinery.
Inspect the steps and grab bars for cracks or dents. Use extra care in slippery conditions, and keep steps free of grease and oil.
Check the undercarriage of the machine and look for signs of wear. Consult your operator's manual for proper track sag adjustment if necessary.
Look for missing or loose pieces on the track pads. Clean out any build-up of dirt and debris that has accumulated on the tracks or in the undercarriage.
On rubber-tired machines, look for loose or missing hardware. Pay attention to the rims and rim locks. If the tires need pressure, make sure they are inflated according to the recommendations in your operator's manual.
Check the condition of lights on the machine to ensure that they are not cracked before operation.
Take a moment to examine other electrical components of the machine.
Check underneath the machine for leaks or breakage, but never use your hands to confirm a leak. Escaping fluid under pressure may cause serious injury. A piece of cardboard can be used to check for leaks safely and efficiently.
Check the cooler cores for debris or damage. If there is light debris, blow air through the cores to clean them. Heavy debris may require a high-pressure washer with water.
Examine the safety alert labels and make sure that they are intact. Replace them if necessary.
If you have any questions about heavy machinery safety or your particular machine, contact your local John Deere dealer.
If you enjoyed this post or want to read others, feel free to connect with us on Facebook, or Twitter!
You might also like: