For operators who need a machine that can work in small spaces over rough terrain, John Deere has developed two new compact wheel loaders for the job – the John Deere 204L and 304L.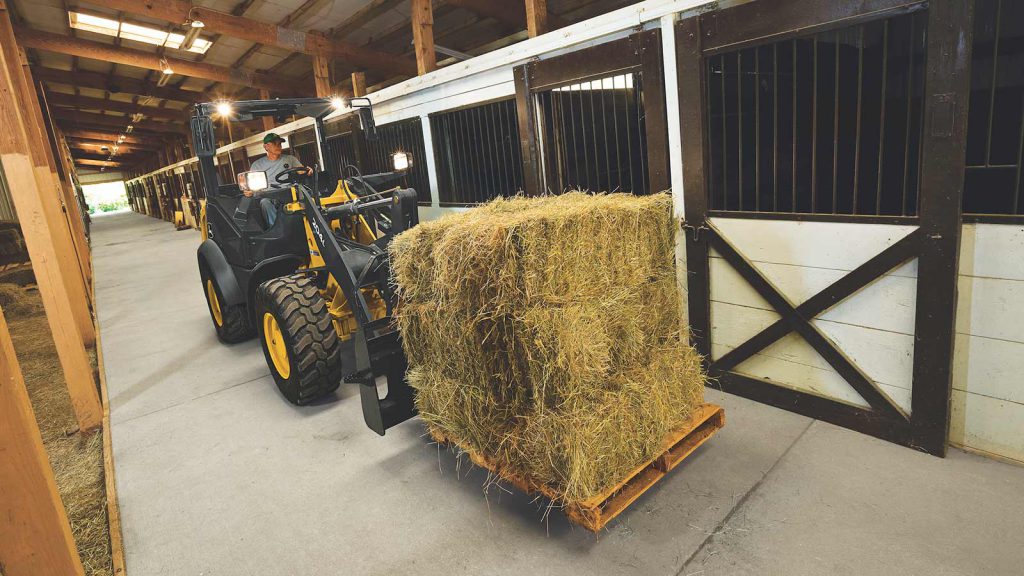 These models are evolutions of the 204K and 304K machines, and they are specifically designed for rugged conditions and small spaces. They are also equipped with features to minimize maintenance and downtime.
"We're packing more productivity and efficiency into the wheel loader with the release of our L-Series models," said Drew Miller, product marketing manager of compact wheel loaders, John Deere Construction & Forestry. "Perfect for year-round use, these workhorses were designed to take on tough jobs from warmer summer months to snowy winter conditions, while enabling the use of a versatile attachments portfolio when you need them."
John Deere 204L
The John Deere 204L now has boom, bucket F-N-R and third-function hydraulic controls positioned on the same ergonomic lever for one-handed control. The machine itself is only eight feet in height, meaning it can squeeze into those low clearance areas without any issues. It has a hydrostatic transmission for quiet operation and a Final Tier 4 Yanmar engine for fuel efficiency. Customers can opt for either an enclosed cab or open station, both of which provide 360-degree visibility. Inside of the cab, a new interior cooling system is designed to keep operators comfortable in warm environments. Easy-access vertical filters and environmental drains make it simple to change fluids and keep them clean on the job.
John Deere 304L
The John Deere 304L also has boom, bucket F-N-R and third-function controls on the same lever for one-handed control and convenience. It measures eight feet in height, giving operators the ability to work in low clearance environments without any issues. The 304L can reach top speeds of 12 miles per hour, and it has up to 3-foot 1-inch reach and 8-foot 7-inch dump clearance. Loading trucks or maneuvering pallets is a breeze with the John Deere 304L. Similar to the 204L, the 304L has self-adjusting park and service brakes, as well as ground-level maintenance points for easy accessibility. It also has a Final Tier 4 Yanmar engine for efficiency and enough horsepower for every task at hand.
If you have any questions on John Deere 204L or 304L, contact your local John Deere dealer.
If you enjoyed this post or want to read others, feel free to connect with us on Facebook, Twitter or Google+!
You might also like: