Mowers have come a long way since the ones our grandparents pushed around. An example is the commercial-grade John Deere 1600 Turbo Series III Wide-Area Mower, which can easily mow a wide area in a short amount of time.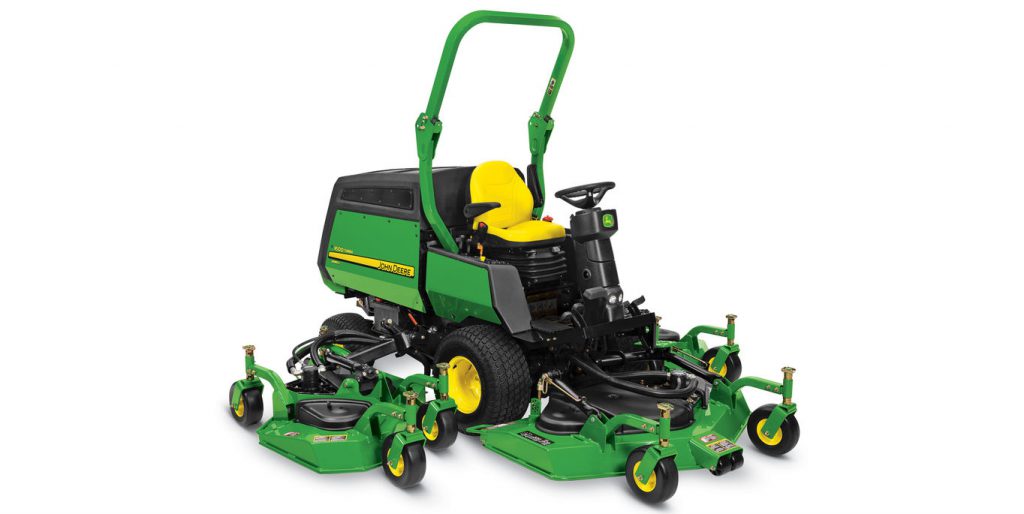 This mower makes any grounds keeper's job easier and able to be done more efficiently. Let's take a look at a few of the features it has in this video gallery.
The John Deere 1600 Series Turbo III features an impressive 11ft. of mower deck width to conquer a large amount of space in a short amount of time. An estimated 75 acres of grass can be mowed in a single 8-hour day, making this mower an essential for a large property. It also features a powerful turbocharged diesel engine to increase performance and a hydrostatic transmission for reliable operation.
While the 11ft. mower deck on the John Deere 1600 Series Turbo III is impressive, it also has the capability to fold up each side deck of the mower to fit into tight spaces. Mowing around trees, bushes, and other landscaping features isn't a problem for this mower. Simply retract the side decks on either side of the mower when approaching a tight spot and let the vehicle do its job.
Some mowers are made to do the basics and others are made to do much more. The John Deere 1600 Series Turbo III not only mows wide areas but also trims around small ones when needed. With the center deck and either side deck on the ground, it has a 94-inch mowing width to reach difficult areas
Mow with Confidence
Users can mow with confidence using the John Deere 1600 Series Turbo III. This vehicle is ideal for a large property with acres of grass to care for. Maneuver around small areas and cut through the large ones with a reliable commercial-grade mower. It's all in a day's work when you can cover more ground in less time by using the right tools.
For more information about the 1600 Series Turbo III, contact your local John Deere dealer.
If you enjoyed this post or want to read others, feel free to connect with us on Facebook, Twitter or Google+!
You might also like: