If you have livestock, you have manure around your property. To make the most of it and handle it properly, you'll want a manure fork from John Deere. The manure fork can be used in a wide array of applications, whether you're harvesting a large amount of manure or simply relocating it on your property. Manure forks also work seamlessly with Deere tractors for ease of use.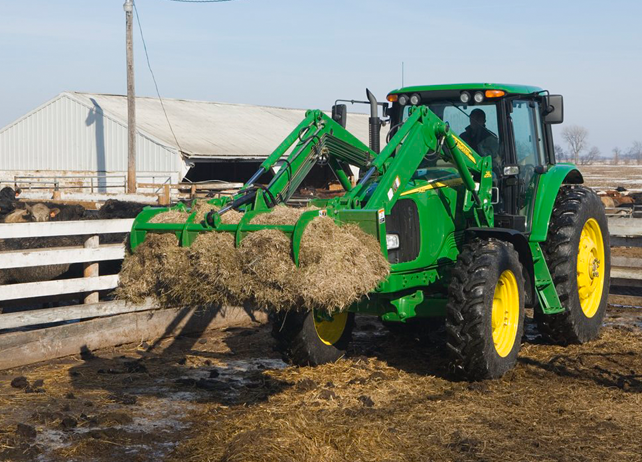 Let's take a look at a few ways you can use your manure fork to your advantage out in the field.
Run the tines as close as possible to the ground or barn floor. Outdoors, you may penetrate the surface of the ground with the manure fork.
Be careful not to disturb any foundation base layer as you work if you are utilizing the fork in a stall or barn.
Make sure the weight of the material is as centered as possible on the bottom of the fork and as close to the back of the fork as possible.
Before lifting, make sure the fork is completely under the load and tilted back slightly.
Decide exactly where you want to dump each load before you start. Ideally, you'll want to place the manure in a compost pile nearby. By placing it on a compost pile, you're giving the manure a chance to break down further until it's ready for spreading.
Deere's AM20F manure forks have working widths of 50 or 60 inches. They are 20 inches high, 24.7 inches deep, and have seven tines for moving manure-filled hay and bedding. The manure forks are also made to work efficiently within barns and stalls, meaning these areas are no longer hard to get to for operators.
To work within a tight barn or stall, operators may want to pair their manure fork with the John Deere 1025R compact utility tractor. The small size of the tractor makes it perfect for working in small spaces, such as horse stalls. The tractor may also come with the factory installed John Deere 260 backhoe, which provides ballast for any implement used with the tractor.
For more information on manure forks and how they can help you out in the field, visit the John Deere Tips Notebook site or contact your local John Deere dealer with questions.
If you enjoyed this post or want to read others, feel free to connect with us on Facebook, Twitter or Google+!
You might also like: