John Deere has expanded its specialty tractor lineup to include the John Deere 5125ML and John Deere 5090EL. Both machines are specially made to provide an ample amount of horsepower while conveniently fitting through areas, such as the small doors to horse barns and poultry houses.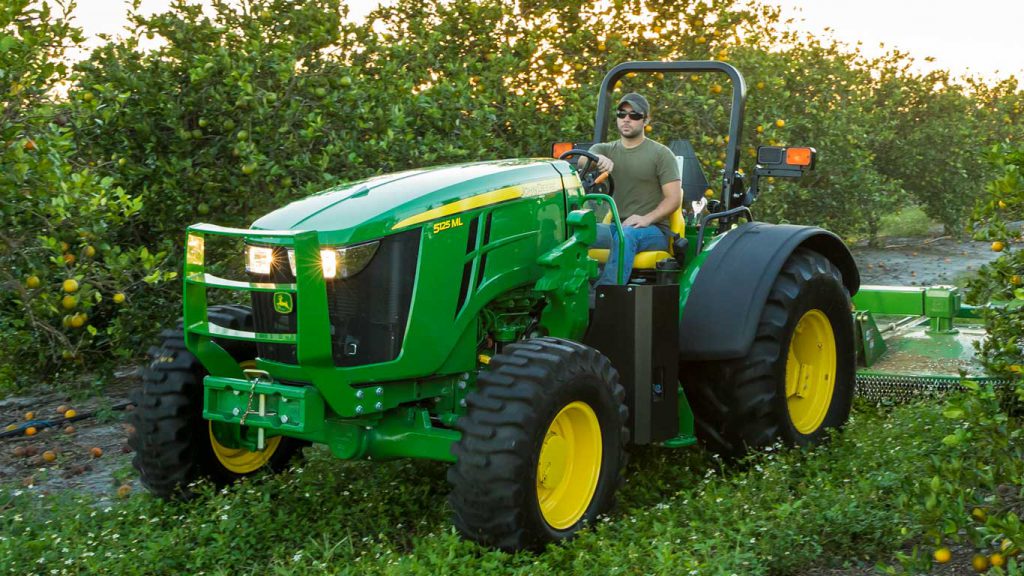 Let's take a look at some of the features of the John Deere 5125ML and John Deere 5090EL and how they can help you with your daily tasks.
John Deere 5090EL
This tractor has a lower rollover protective structure hinge point, which reduces the machine's overall height. This means it's small enough to fit into low clearance areas, giving it more versatility. The fenders can also be adjusted to accommodate producer preference, regardless of tire selection.
The John Deere 5090EL also has a 12F/12R PowrReverser transmission, which provides a wide variety of speeds. Hydraulic wet clutches maximize durability, giving operators one less thing to worry about in terms of the lifespan of their machine.
"A John Deere PowrReverser™ Transmission lets operators change direction without clutching – making the 5090EL very user friendly and ideal for loader work," said Justin Cherry, 5E product manager for John Deere. "The built-in versatility these tractors offer make them a great choice to handle common hay and livestock jobs around the farm."
John Deere has already begun taking orders for the 5090EL, and it will begin production on the machine in April 2018.
John Deere 5125ML
The John Deere 5125ML has a PowerTech engine that operates up to 125 horsepower. Furthermore, it is equipped with the John Deere PowrQuad Transmission, which was previously only available on larger tractors. This allows operators to make gear changes at the press of a button – no clutching required.
All 5ML tractors from John Deere can now use integrated technology for users to gain further insight into the operation of the machine as well.
"Using JDLink™ telematics, owner/operators can now use their computer or mobile device to remotely locate their tractor to monitor engine hours, maintenance and fuel usage," explains John Doyle, 5M Tractor product manager for John Deere. "This is a first for low-profile tractors."
All 5ML tractors are backed by a two-year or 2,000-hour factory warranty from John Deere. The company will begin taking orders for the 5125ML in late February, and production will begin in the fall of 2018.
If you have any questions on the John Deere 5125ML or John Deere 5090EL, contact your local John Deere dealer.
If you enjoyed this post or want to read others, feel free to connect with us on Facebook, Pinterest, or Twitter!
You might also like: