When you need a new mower to take care of all of the tasks in your yard, the John Deere X584 could be the machine for the job. This mower comes with four-wheel steering and the Accel Deep™ Mower Deck for a clean cut every time. It can also be used with a utility cart, making it perfect for transporting mulch or soil around your yard.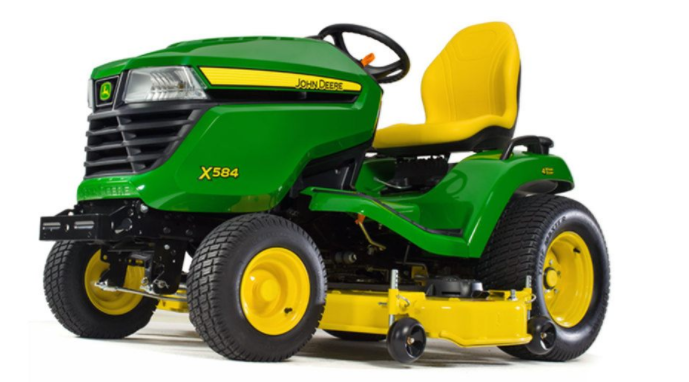 Let's take a look at some of the key features of the John Deere X584 and how they can help you maintain a beautiful lawn this spring and summer.
Four-Wheel Steering
Four-wheel steering gives you the utmost maneuverability, which is a must if you have a lawn full of shrubbery or trees you need to be mindful of as you mow. Cutting inside turns around landscaping and flower beds is a breeze. While cutting rectangular-shaped areas and square corners, you can effectively and efficiently direct the mower around these areas with ease.
Hydraulic Power Steering
In addition to coming with four-wheel steering, the John Deere X584 comes standard with hydraulic power steering. This provides an effortless, automotive-like control that ultimately reduces operator control and improves productivity. It works along with four-wheel steering to make it easy to get around tight corners in the yard.
Durable Frame
The frame of the John Deere X584 is made of heavy-duty formed and welded steel. It is reinforced in key areas to provide even more strength and durability. The frame itself is formed from 12-gauge thick material, while the front bumper and hitch plate are formed from 0.25-inch steel. The front bumper itself can also hold up to four Quik-Tatch weights for additional stability when needed.
Accel Deep Mower Deck
The John Deere X584 comes with a 48-inch or 54-inch Accel Deep Mower Deck that has a stamped-steel, deep, flat-top design. It is specifically made to enhance cut quality, productivity, cleanliness and durability. The mower deck itself is suspended from the vehicle for a smooth and level cut every time.
Engine
The mower runs with a 24 horsepower V-twin air-cooled engine, which includes the John Deere iTorque™ power system for even more efficiency. It has cast-iron cylinder liners, overhead valves, full-pressure lubrication and a replaceable oil filter. Its flywheel alternator gives it the capacity to quickly recharge the battery and power other electrical equipment.
If you have any questions about the John Deere X584, you can contact your local John Deere dealer.
If you enjoyed this post or want to read others, feel free to connect with us on Facebook, Pinterest, or Twitter!
You might also like: