When you want to optimize your mowing experience, the John Deere Z355E is designed to have you covered. From a ground speed of up to 7 mph to on-the-go tracking adjustment that ensures straight lines, this piece of equipment offers the quality result property owners look for.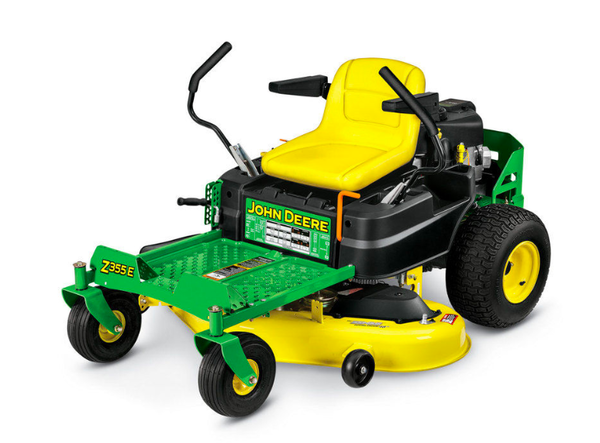 Let's break down the features of the John Deere Z355E to help you better understand what this machine can do for you.
Convenient Operator Station
The operator station is designed for comfort and convenience, providing options for seat back height, a foot platform, seat suspension, and even storage compartments. When it comes to running the machine, the operator will be able to easily identify controls due to color coding and light indicators.
Powerful V-Twin Engine
The John Deere Z355E has a 22-hp V-twin engine with 44.2-cu inch displacement, allowing the machine to handle even the toughest of situations. Improved sound quality and fast starts provide comfort and convenience while cast-iron sleeves and rear engine guard ensure a longer engine life.
Serviceability Convenience
This piece of equipment includes a service interval decal that provides basic maintenance information. Convenient mower deck access and easy engine servicing ensure the operator can spend less time on maintenance checks and more time fully enjoying their machine.
Heavy-duty Steel Frame
Large front caster wheels and large rear drive wheels offer operators a smoother ride, comfort over uneven ground, better slope performance, and better traction. The design of the John Deere Z355E also provides benefits such as the ability to get on and off the mower easily, plenty of legroom, and control levers for height and position.
48-inch Accel Deep™ Mower Deck
The mower deck on this piece of equipment delivers outstanding quality, efficiency, durability, and versatility due to its stamped-steel, deep, flat-top design. Operators can be confident they are getting a quality cut the first time around and can enjoy other aspects of this feature, including MulchControl™ and the optional Power Flow Rear Bagger.
If you have any questions about the John Deere Z355E, you can contact your local John Deere dealer.
If you enjoyed this post or want to read others, feel free to connect with us on Facebook, Pinterest, or Twitter!
You might also like: