John Deere recently announced the new John Deere R4044, a lightweight, 1,200-gallon capacity sprayer. The machine is specifically designed for producers who value high levels of productivity and accuracy with reduced crop and soil impact. The John Deere R4044 joins the 4-Series Sprayer family, and it is 9 percent lighter than the existing R4045 Sprayer.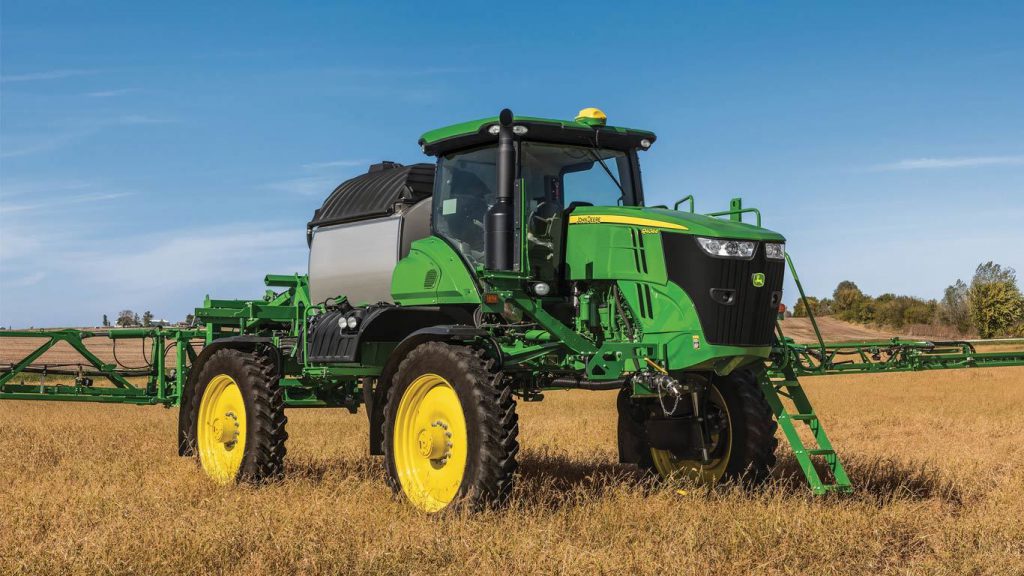 In addition, the John Deere R4044 operates with a 325 engine horsepower 9.0L PowerTech™ engine. This allows users to maintain speed under load as terrain changes on the job. The machine also has ExactApply™, AutoTrac™ Vision, and a 4600 CommandCenter™ display for even more productivity and uptime.
"The R4044 is one of the most accurate and productive sprayers in the 1,200-gal. (4542 L) capacity category and is perfect for customers making multiple field applications and want to minimize crop and soil impact," says Doug Felter, product marketing manager for John Deere application equipment. "And with the CommandView™ III cab, it offers advantages in operator comfort, visibility, ride quality and common control layout like our other 4-Series Sprayers."
Let's take a look at some of the other highlights of the John Deere R4044 and how it can help producers accomplish more during the workday.
Solution Command System (SCS)
SCS allows for complete automation at the load station with a 12-button keypad. Everything from pump speed to agitation can be managed with the SCS at the press of a single button, reducing downtime.
John Deere Connect Mobile
With John Deere Connect Mobile, operators get a close-up view of everything happening with the machine directly on a display within the cab. Connect Mobile shows several sprayer attributes, helping operators detect any problems that may arise on the job.
120-Foot Boom with Swing-Link Suspension
The 120-foot boom of the John Deere R4044 ultimately reduces time spent spraying, and it also limits the number of passes through the field. This means less compaction and time dedicated to spraying over large areas. Swing length suspension also stabilizes the boom, which is essential while traveling over rough terrain.
New Leader® DN456 Dry Spinner Spreader Compatibility
The DN456 Dry Spinner Spreader has a carrying capacity of up to 200 cubic feet of dry fertilizer, and it can also hold 6.6 tons of fertilizer with variable rate applications from 75 lb/acre up to 3 ton/acre.
If you have any questions about the John Deere R4044 or its features, you can contact your local John Deere dealer.
If you enjoyed this post or want to read others, feel free to connect with us on Facebook, Pinterest, or Twitter!
You might also like: