Your John Deere sprayer has several features that can help with a wide range of tasks, but did you know it's also efficient at controlling weeds after harvest season? Controlling weeds is a breeze with a sprayer, and there's no better time to take on the task than when the weather starts to cool and the field has been fully harvested.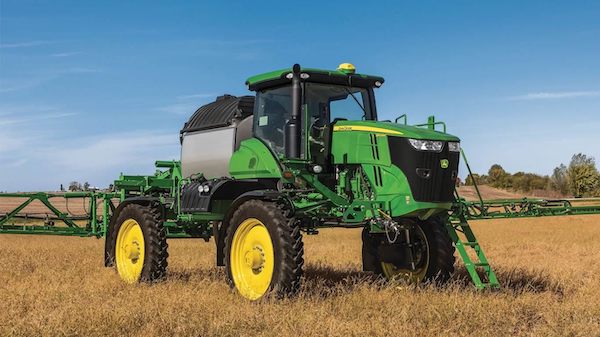 Let's take a look at some of the benefits of controlling your weeds with a John Deere sprayer.
1. Cleaner Fields
Controlling your weeds with a sprayer in the fall means cleaner fields come spring. In the end, this can give you a head start when planting season comes around, with no need for pre-planting herbicide applications.
2. More Savings
When you don't have to worry about herbicide applications and other prep methods, you can save both time and money. Getting right to planting can ultimately boost your efficiency.
3. Less Destructive Insects
Fewer weeds means less shelter for potentially destructive insects. In turn, this can result in lower pesticide costs and save you time. Once spring rolls around, you'll be able to get right to planting without any of these concerns.
What types of sprayers are out there?
There are several John Deere sprayer models to choose from, meaning there is never a shortage of options whether you have a small field or you're looking to take on a large swath of land.
R4023
The R4023 sprayer from John Deere, for example, is a compact size, making it ideal for smaller fields. It has a fully efficient 4.5-liter tier IV engine, and its cab is designed for maximum comfort throughout long days.
R4030
The R4030 sprayer from John Deere has an 800-gallon capacity, meaning less downtime and more productivity out in the field. Its dry spinner capability increases versatility, and it comes with a direct injection product mixing option as well.
R4044
The R4044 sprayer has a 1,200-gallon tank capacity and boom widths up to 132 feet. It is nine percent lighter in weight than the R4045 sprayer, and it comes with a carbon fiber boom option as well.
R4045
The R4045 sprayer from John Deere has a 1,200-gallon tank capacity as well, and it comes with the Load Command option, as well as the direct injection product mixing option. Its dry spinner capability ultimately increases versatility.
For information on John Deere sprayers or the benefits of using them following your fall harvest, contact your local John Deere dealer.
If you enjoyed this post or want to read others, feel free to connect with us on Facebook, Pinterest, or Twitter!
You might also like: