The John Deere Bale Mobile app provides operators with more information to improve efficiency, distinguish bale characteristics, track yields, and make better decisions when used alongside a John Deere large square baler. Once the Bale Mobile app is downloaded onto an iPad® or tablet computer, operators will have full access to a range of information that will help boost productivity.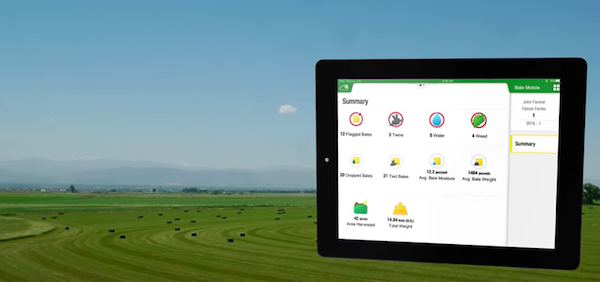 Let's take a closer look at this app and how it makes managing bales easier than ever, whether you are on the field or in the office.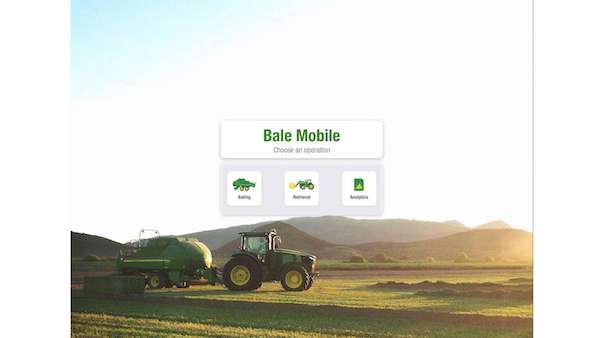 Baling
Throughout the baling process, the John Deere Bale Mobile app will record each individual bale's moisture and weight, which can then be tagged with or without additional information for identification when sorting. Once baling is completed, the app will provide a summary which shows the total weight of crop, number of bales, and average moisture; this information will appear even if more than one baler is being used.
Transporting Bales
The John Deere Bale Mobile app makes the sorting process a breeze before transporting the bales to their next destination. Agronomic data allows this app to determine the moisture and weight of each bale in order to determine what should be loaded and what producers should separate from the haystack.
Planning
Even when in the office, the Bale Mobile app works remotely to provide a field summary which includes yield information, helping producers make decisions regarding fertilizers, irrigation, and replanting.
To learn more about the features of this app, watch the video below.
If you have any questions about John Deere baling equipment, contact your local John Deere dealer.
If you enjoyed this post or want to read others, feel free to connect with us on Facebook, Pinterest, or Twitter!
You might also like: