The John Deere 5115M is versatile in many ways. By adding certain attachments, this tractor can be used to tackle some of the most challenging tasks that often arise on the field.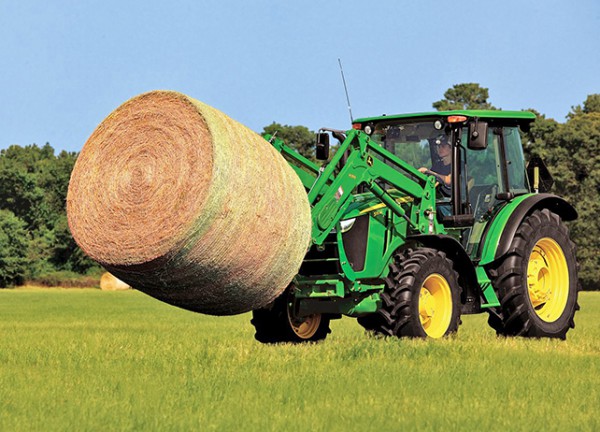 We've put together this video gallery to explain how the John Deere 5115M Utility Tractor can be used for a variety of jobs. You'll also learn exclusive tips from the John Deere team around how to successfully accomplish each task at hand. Enjoy!
This video explains how to move a big pile of brush with the Frontier AV20G Root Grapple and a John Deere 5115M Utility Tractor.
What are these operators up against? This pile of brush has been built up over time and now the operators need to move it into a different area to make sure it's disposed of properly. Be sure to watch the full video to learn essential aspects of clearing debris.
Tip: The key is to make sure you drive the grapple well below the bottom of the pile, even slightly penetrating the soil beneath.
This video demonstrates how to turn a big, trashy pile of limbs into wood chips using a Frontier WC1205 Wood Chipper powered by a John Deere 5115M Utility Tractor.
Tip: When using a wood chipper, always feed the blunt end of the branch into the hopper first. Never stand directly in front of the hopper, so debris can't fly back at you. If you can, chip a mixture of dry and green material to lubricate and cool the chipper's knives.
Learn how to spread a large round bale using a Frontier bale unroller and a John Deere 5115M Utility Tractor. As a bonus, this video explains how to get a large round bale into a round livestock feeder safely and easily. You'll join an operator in the pasture to unroll a large round bale.
Tip: Don't use a bale spear and loader to lift a round bale into the livestock feeder because you could damage the spear, loader, feeder or all three. Instead, after removing the bale wrap, set the bale on the ground and lift the livestock feeder over the top of the bale by hand.
This video will show you how to control water drainage in a cattle feed lot using a Frontier hydraulic drawn box scrapper and a John Deere 5115M Utility Tractor.
In this scenario, machine operators are up against cattle feeding grounds that are significantly torn up. See how operators use the box scraper to move manure into a pile, while smoothing out the ground so that rainwater will keep draining the way the landowner wants it to. Here you'll learn the equipment and attachments you need to do so.
Tip: Frontier has more than 600 implements that are available exclusively through your John Deere Dealer. For implements that will turn your tractor into the workhorse it was meant to be, think John Deere.
We hope this video gallery helped you realize the many ways that the John Deere 5115M can be used to tackle a variety of challenges in the field.
If you enjoyed this post or want to read others, feel free to connect with us on Facebook, Twitter or Google+!
You might also like: