At John Deere, safety is a top priority when ensuring that customers are able to make the most out of their equipment. This means taking the necessary steps to monitor the machine throughout all stages, from setup to operation. Before loader tractor ballasting, the operator should review the manual in order to maximize safety, stability, and performance while putting their John Deere equipment to work.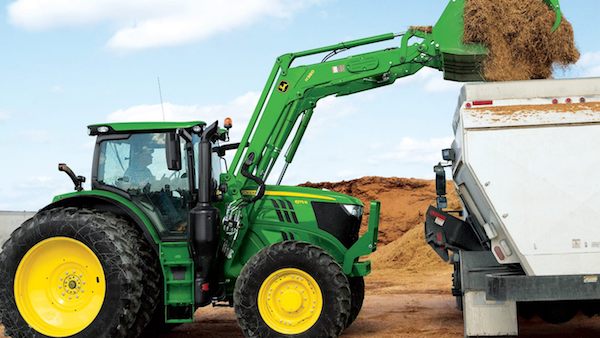 Let's take a look at how to optimize loader tractor ballasting while maintaining safety throughout the operation.
Before operating your machine, it is recommended that you review the operator's manual to understand requirements for specific tasks. For loader tractor ballasting, refer to the "Preparing the Tractor" section of your operator's manual for information on tread settings and balanced recommendations.
In order to prevent rollover and subsequent injuries, adjust tractor rear tread settings to the widest possible settings.
Different tractor models call for different front tread settings when managing stability on uneven terrain. Please review your manual for specific requirements.
Tread adjustment can be accomplished in various ways depending on axle type. This includes adjusting rear wheels outward when operating a tractor equipped with rack and pinion rear axles, swapping wheels to opposite sides, or simply reversing the wheel disk.
Counterbalance weight is required for loader tractors for stability and maximum loader capacity. This can be added in up to three areas – rear wheel weights, ballast box on three-point hitch, and fluid-filled rear tires.
Counterweight ballasting should begin with removing all front weight, including the weight bracket, if applicable.
In your operator's manual, refer to the specification section to find information distinct to your model. This will provide locations and minimum amounts of counterbalance weight.
Once setup is complete, it's important to note that loads should be carried low to the ground when transporting in order to continue maximizing stability.
Following these steps and taking the time to refer to the operator's manual will ensure maximum safety and stability while increasing productivity. For more information about loader tractor ballasting, watch the video below.
If you enjoyed this post or want to read others, feel free to connect with us on Facebook, Pinterest, or Twitter!
You might also like: