John Deere 8000 Series tractors are specifically designed to provide optimum comfort to operators as they maximize uptime and reduce operational costs out in the field. With improved visibility and enhanced serviceability, John Deere 8000 Series tractors are some of the most unique tractors of their kind.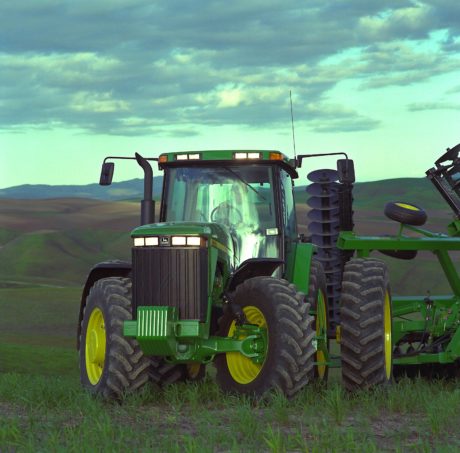 Let's take a look at some of the key dates in the development of the John Deere 8000 Series and highlight where it all began.
1976-1981
Deere and Company completes more than $1.5 billion in capital investments, the largest such expenditure in company history.
1981
The John Deere Tractor Works facility in Waterloo, Iowa, becomes fully operational, building 225 tractors per day.
1986
The Farm Crisis of the 1980s is in full swing, with conditions more severe than any since the Great Depression. Tractor production at the Waterloo factory falls to 15 tractors per day, with 10-12 at a time stored for future sale. Deere engineers continue to conduct studies around future tractor design, but development opportunities are limited. Overall company sales steadily fall from a record $5.5 billion in 1981 to $3.5 billion in 1986.
1987
Design engineer Terrill Woods begins sketching a new tractor with a 99 percent turning radius, which was seemingly impossible at the time. He sketches a tractor with the idea of raising the engine up above the front axle. Eventually, he shares his idea with colleague and drive-train engineer Lyle Madsen, who works with him on further sketches. When back at Waterloo, existing parts from other tractors are used to build a running mock-up of the new design concept.
1989
The mock-up is taken to a test site in Arizona. This is where the famous "figure 8" photos were taken, showing the proposed tractor turning a figure-eight inside of the tightest turning competitor tractor.
1994
The first John Deere 8000 Series tractor is introduced, designed exclusively with 3-D geometry and "design to manufacturing" processes.
2018
John Deere 8000 Series tractors continue to be produced at Waterloo Works, as well as in Montenegro, Brazil, and assembled in Domodedovo, Russia.
Fun Fact
The initial sketch concept for the tractor that evolved into the John Deere 8000 Series was drawn on an airline ticket envelope, which is now a part of a digital exhibit at the Smithsonian National Museum of American History.
Final Thoughts
By taking a few steps back in history, it's easy to see how far Deere's engineers have come in the development of the John Deere 8000 Series. Today, the company continues to improve upon its tractors for farmers of the future.
If you have any questions about the John Deere 8000 Series, you can contact your local John Deere dealer.
If you enjoyed this post or want to read others, feel free to connect with us on Facebook, Pinterest, or Twitter!
You might also like: