There are a number of John Deere 2019 tractor updates being rolled out to provide customers with more comfort and efficiency on the job. Everything from fuel capacity to the cab has been considered, giving operators something to look forward to each workday.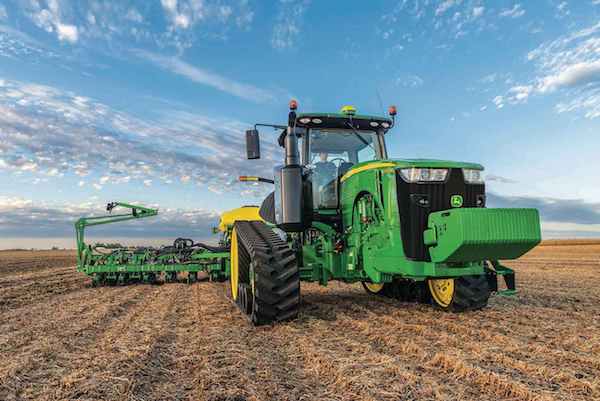 Let's take a look at some of the John Deere 2019 tractor updates and how Deere has reconfigured its machines to better cater to its customers.
Remodeled Cab
The cab of John Deere tractors has been completely remodeled to provide customers with more comfort as soon as they step inside. The Premium CommandView III Cab with cab suspension now comes standard on all 8RT Series tractors. It is coupled with the AirCushion suspension system, which ultimately improves the ride experience for operators.
Steering
A steering circuit change and recalibrated steering sensitivity are also meant to enhance operator comfort and control. All of the 8RT Series tractors will get a new steering pump, changes to the loop-override circuit and new, in-cab steering sensitivity adjustment. This means that working in soft field conditions is not a problem for 8RT Series tractors.
Generation 4 CommandCenter
As a part of the John Deere 2019 tractor updates, all 8RT Series tractors will come with the Generation 4 CommandCenter 18-1 software update already installed and included as base equipment.
Fuel Tanks
There is less of a need to stop and refuel on 8RT Series tractors thanks to the series of updates that have been made to the machines. Outside of the cab, tractors now feature a redesigned fuel tank with increased capacity. The Diesel Exhaust Fluid tank is now larger, meaning less downtime spent refueling and more efficiency out in the field. The 2019 8RT Series Tractors feature a 6 percent increase in fuel capacity (212 gallons). The Diesel Exhaust Fluid tank gets a 12 percent increase in capacity, up to 7.6 gallons as compared to 6.7 gallons.
Independent-Link Suspension
The front axle has been updated for improved reliability and serviceability on wheeled 8R Tractors. The design now features an upper pivot A-arm lug for more strength and reliability. Guards have also been added to the suspension position sensor to protect it from debris.
Battery Switch
There is now a battery disconnect switch on 8RT Series tractors that allows operators to disconnect battery power to the entire tractor without having to manually disconnect battery cables.
To learn more about these updates, watch the video below.
If you have any questions about John Deere 2019 tractor updates or equipment, you can contact your local John Deere dealer.
If you enjoyed this post or want to read others, feel free to connect with us on Facebook, Pinterest, or Twitter!
You might also like: