When you need a tillage solution designed with versatility in mind to increase your overall efficiency, John Deere has a wide array of options for you to consider. Two products that can help you with the task at hand are the John Deere 2660VT Variable-Intensity Tillage Tool and the John Deere 2680H High-Performance Disk, both of which have both been introduced for the 2019 model year.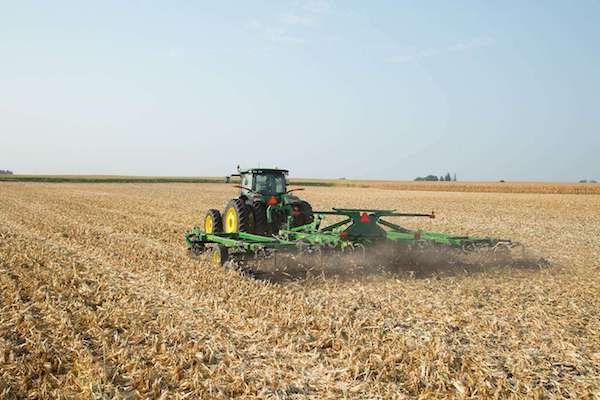 Let's take a closer look at the John Deere 2660VT and 2680H to discover their value on the field. 
John Deere 2660VT Variable-Intensity Tillage Tool
The John Deere 2660VT Variable-Intensity Tillage Tool is available in six models with working widths from 20 to 50 feet, in three- and five-section configurations. Operators have the choice of tire options to suit specific needs, including radial, bias or high-floatation tires. Other choices include Walk-Over™ tandem wheels which can provide excellent stability and floatation or stabilizer wheel options which are available based on configuration.
Front-mounted active-hydraulic depth control castering wheels on outer winds come standard on all five-section configurations. The John Deere 2660VT also has compact transport dimensions to help you move between fields with ease, enhancing productivity each day. The three-section models are under 14 feet high, and the five-section models fold to less than 15.5-feet wide. In addition, the John Deere 2660VT also features the two-part ProFinish Leveling system which effectively reduces clods and pin residue.
John Deere 2680H High-Performance Disk
The John Deere 2680H High-Performance Disk can be used for tillage throughout both the fall and the spring. With a capability of traveling at speeds up to 14 miles per hour, this machine can cover more ground in a shorter amount of time. Ultimately, this results in more productivity efficiency for operators.
The disk has individual 20-inch smooth or notched disk blades mounted on a rubber torsion suspension system. This allows the blades to follow the contours of the ground for an overall smoother ride. The blades, which have 10-inch spacing for maximum residue flow, are angled 17 degrees on the front rank and 14 degrees on the rear rank for aggressive horizontal soil movement.The John Deere 2680H High-Performance Disk has an easy-to-manage depth control system, along with greaseless bushings and bearings that increase uptime and reduce the need for frequent maintenance.
Fifteen different models are available from an eight-foot model to drawn models of up to 45-feet wide. The goal is to match customers' acreage size and horsepower requirements.
To learn more about these features, watch the video below or contact your local John Deere dealer.
If you enjoyed this post or want to read others, feel free to connect with us on Facebook, Pinterest, or Twitter!
You might also like: