Now that the seasons are changing, there's no better time to check out John Deere kids clothing to make sure your family is outfitted properly for autumn. As the weather gets more chilly, you're going to want to ensure that everyone is bundled up and ready for some outdoor fun. Let's take a look at some John Deere kids wear that you may want to consider for the little ones in your life.
Baby Deer Bootie Socks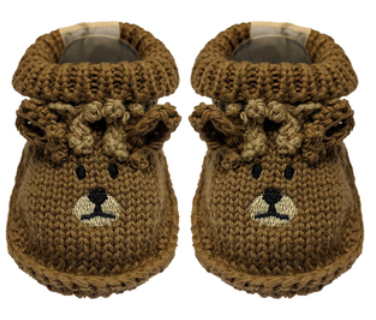 These Baby Deer Bootie Socks are modeled after a brown deer and are sure to keep the feet of any baby nice and warm in cool weather. Put a pair of John Deere booties over them and you're ready for plenty of outdoor fun!
Barn Owl Pajamas Set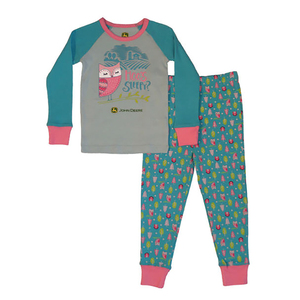 What better way to welcome the season than with a new pair of pajamas, especially ones with an adorable barn owl on them for decoration. John Deere kids are sure to be ready and warm for those chilly nights with this long-sleeved bedtime outfit.
Fuzzy Ear Flap Hat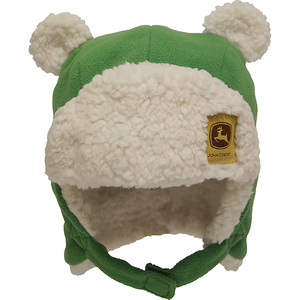 Those chilly winter days out on the farm can be nippy, but your little one is sure to stay warm with a Fuzzy Ear Flap Hat. It fully covers the ears for additional heat when the temperature starts to drop.
Under Construction Pajamas Set
Watch out — we're under construction with this pajama set! The shirt has a stylish tractor on the front just underneath the iconic John Deere logo. The set itself is long-sleeved and comes with long pants for the ultimate warmth and comfort.
Mossy Oak Camo Hoodie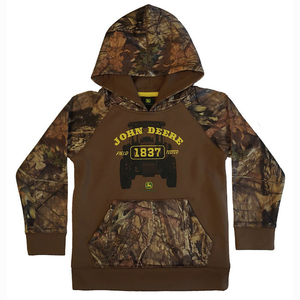 If your little one enjoys playing outside, as most John Deere kids do, regardless of the weather, you'll want to make sure he or she is warm at all times. This Mossy Oak Camo Hoodie does just the trick and comes with a kangaroo pocket to keep hands warm, as well. It features a black tractor graphic on the front with the phrase "John Deere Outdoors" and classic logo below.
Little Deer in the Forest Zip Up Hoodie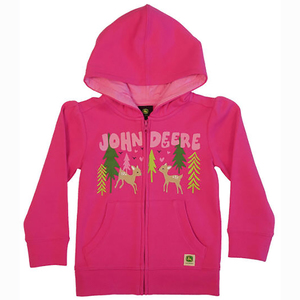 There's nothing more convenient than a zip-up hoodie that can be easily taken on or off, depending on the weather as the seasons change. This hoodie, in particular, has two cute deer on the front, as well as the words "John Deere" across the center. It is composed of a warm fleece material, meaning your little one will keep nice and warm wearing it in autumn weather.
If you have any questions about John Deere equipment that you may be using this fall, you can contact your local John Deere dealer.
If you enjoyed this post or want to read others, feel free to connect with us on Facebook, Pinterest, or Twitter!
You might also like: