To make sure that your family is ready for autumn, you might need to do a little shopping for clothing before the real chilly weather arrives. Luckily, John Deere has the latest in fall fashion to help you keep your loved ones stylish and warm.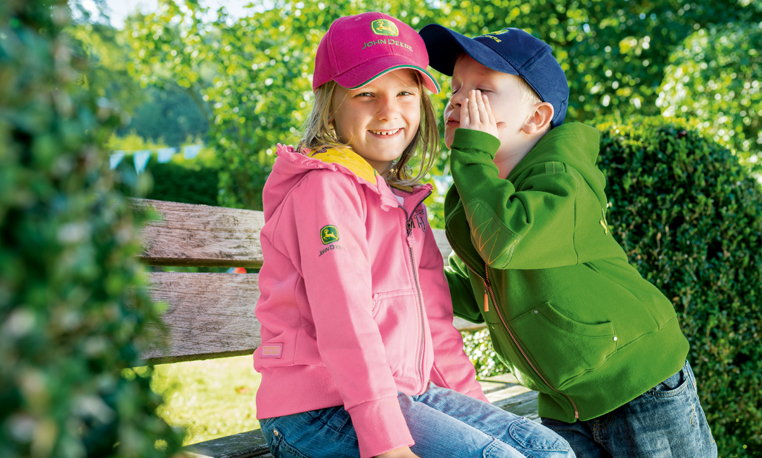 To offer some assistance, we've compiled a list of some John Deere clothing items you can add to your shopping cart this fall.
Women's Fall Fashion
Fall fashion is all about looking good while staying toasty, even in the great outdoors. This John Deere Ladies Black Fleece is both stylish as well as warm for autumn weather.
Sewn with green and yellow polyester yarn, any woman will be able to show her love for John Deere in this hat and scarf set this season.
If she wants something a little warmer, consider this soft shell jacket, which is also waterproof for those chilly autumn showers.
This chic pink and tan boot is just what every woman needs on a cool autumn day. They have a moisture wicking lining and a soft cushion insole.
Men's Fall Fashion
You never know when the raindrops are going to fall as the seasons change. This John Deere jacket has a hood for any precipitation that may come.
Soft and cozy, this hoodie is the height of fall fashion for John Deere lovers who want to enjoy the weather outdoors.
Every man knows that microfleece is the way to go when you want a lightweight, warm sweater in the fall. This zip microfleece has an embroidered "John Deere Est. 1837" applique for a unique look.
Any man will look sharp while staying toasty this fall with the John Deere Green Plaid Shirt with Warm Quilted Lining. This shirt has a 100 percent cotton lining and 100 percent polyester filling.
Children's Fall Fashion
This pink hooded sweatshirt from John Deere will keep any little one warm, even when the fall temperatures start to arrive.
This jacket will make sure your child is ready for autumn wind and rain, composed of a slick, breathable nylon.
Complete with a John Deere tractor, this Boys Black Zip Hooded Sweatshirt is perfect for any little boy who wants to spend his days outside, playing football or jumping in piles of leaves.
There's no better way to keep your little girl warm than with a fleece. This pullover is both warm and stylish.
Whether your family loves the outdoors or you simply need to update your fall wardrobe, John Deere has the clothing you need to look your best this season.
If you enjoyed this post or want to read others, feel free to connect with us on Facebook, or Twitter!
You might also like: