The John Deere Pavilion is home to everything from historic machinery to exciting demonstrations for attendees to enjoy during their visit to the venue. People of all ages can attend the Pavilion for free throughout the week, but what can they expect to see while they're there?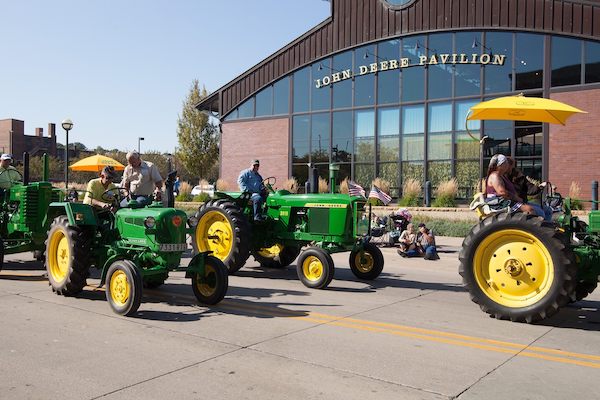 Exhibits
There are eight exhibits at the John Deere Pavilion featuring interactive technology and a variety of hands-on learning activities. Furthermore, they aren't just for kids – adults are invited to participate as well!
Products
Tractors, combines, and dozers are all on display at the Pavilion, and attendees can sit in some of Deere's largest machines to see what it's like to use them out in the field.
History
History is a big part of the Pavilion, surrounding attendees the moment they walk in the door. There are numerous opportunities to learn about John Deere himself and how he used his skills and knowledge to revolutionize the agricultural industry.
Introducing: The 3020 Tractor
The 3020 Tractor is one piece of historical equipment that recently found a home at the Pavilion. Little is known about the tractor itself, other than it was never sold, and it has not left John Deere since it was constructed in the mid-1960s.
Initially, the tractor was a part of Deere's "New Generation of Power." It marked the beginning of the move from two-cylinder tractors to four- and six-cylinder tractors. The "New Generation of Power" was introduced in 1960, and it helped create new industry standards for power, production, and safety.
Today, the 3020 Tractor is on display at the John Deere Pavilion and will be on exhibit through 2019 for visitors to see.
Introducing: The General Purpose Wide-Tread Tractor (GPWT)
The first GPWT was built back in 1932 and served as a bridge between the General Purpose tractor and the Model "A," which debuted in 1934. It was a critical piece of machinery for producers who needed both cross-cultivation capabilities to prevent weed growth during the growing season, in addition to higher ground clearance to prevent crop damage.
The GPWT also notably made its debut during the Great Depression, when farmers were trying to do more with less.
"As the Great Depression hit Americans hard in the early 1930s, John Deere stepped up to help employees, but of course had a responsibility to its customers as well," said Neil Dahlstrom, manager, Archives and History. "With economic conditions worsening by the day, farmers still had to produce enough to feed the country."
Today, this historic piece of machinery can be seen at the Pavilion through 2019.
To learn more about existing John Deere equipment and how it can help you with your own tasks, you can contact your local John Deere dealer.
If you enjoyed this post or want to read others, feel free to connect with us on Facebook, Pinterest, or Twitter!
You might also like: