To mark the 50th anniversary of Deere's first ever wheel loader, the company has rolled out three new powerful L-Series wheel loaders: the 524L, 544L, and 624L. These new machines are ideal for projects that require agility and versatility out in the field. Furthermore, they were designed with the operator in mind, with newly improved cabs, electrohydraulic loader controls, and redesigned near-parallel linkage.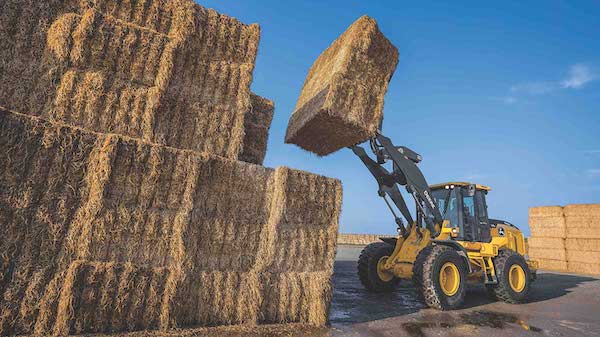 "Our next generation of wheel loaders improves upon the legacy of the John Deere wheel loader line," said Chris Cline, product marketing manager for utility wheel loaders, John Deere Construction & Forestry. "The L-Series boasts several improvements over previous models designed to positively impact productivity, comfort, and visibility, resulting in increased profitability."
Unlike their K-Series predecessors, the new L-Series wheel loaders have cabs that are roomier and more comfortable for operator use. The heavy-duty air suspension seat is also heated for even more comfort.
EH loader controls with integrated third and fourth functional auxiliary hydraulics provide faster cycle times as well, meaning operators can move more material over a shorter period of time. Two multifunction buttons that are integrated into the hydraulic controls allow the operator to assign a function to each button, making it even easier to maneuver the machine.
Let's take a look at some of the other features of these new L-Series wheel loaders to get a better idea of what they have to offer out in the field.
Improved Visibility
The new Tool Carrier configuration on the 524L and 624L allows for a clear view of the coupler and forks, making it easier to quickly move around pipes, logs, and pallets. With improved visibility, operators can also reduce spillage, cycle times, and tool-changeover time while minimizing machine damage.
High-Lift Plus
The new High-Lift Plus configuration provides up to an additional 24 inches of hinge-pin height over standard lift height and up to 12 inches over the high-lift model. All three lift heights feature near-parallel lift.
Lift Path
The lift path on all Z-Bar linkages is now near parallel. This allows for less load rollback and material spillage and minimizes the need for manual adjustments.
For more information on the 524L, 544L, and 624L, be sure to watch the video below!
If you have any questions about the 524L, 544L or 624L, you can contact your local John Deere dealer.
If you enjoyed this post or want to read others, feel free to connect with us on Facebook, Pinterest, or Twitter!
You might also like: