With the new John Deere GPS PrecisionSprayer, available exclusively on the John Deere ProGator line, customers have the option to accurately and consistently get their job done while reducing input costs and operator fatigue. This new machine offers features such as AutoTrac, shareable coverage maps, and individual nozzle control to make the task at hand easier to complete.
"The GPS PrecisionSprayer offers an innovative solution that allows our customers to be more productive and accurate when maintaining turf," said Brooks Hastings, product manager, John Deere. "John Deere boasts over 20 years of GPS experience, which was vital when creating the GPS PrecisionSprayer. We were able to leverage our knowledge of GPS technology to develop a solution that supports our customers, increasing productivity and accuracy, and reducing labor and material costs."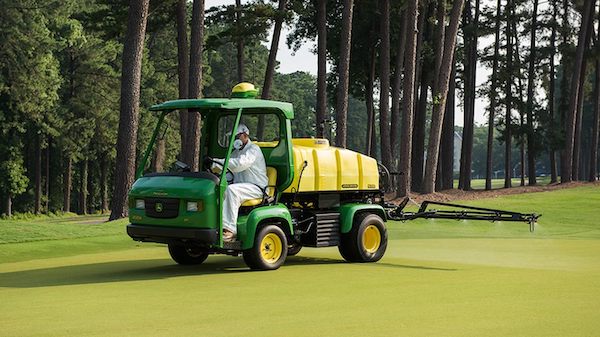 GPS PrecisionSprayer technology also allows customers to create coverage maps, which can be shared across multiple machines. This eliminates overlap and increases overall productivity. The ability to electronically capture all spray data and analyze the results streamlines documentation and provides robust analytics. Automated documentation also eliminates the need for manual recording and increases the accuracy of recording spray event information.
With spring just around the corner, let's take a closer look at the ProGator 2030A GPS PrecisionSprayer and the ProGator 2020A GPS PrecisionSprayer to see exactly how they can help you out in the field.
Flip Up Seats
Both of these models include seats that are designed to flip up when necessary to keep them clean and dry when not in use.
Hydraulically Actuated Front and Rear Disk Brakes
These models have hydraulically actuated front and rear disk brakes for plenty of stopping power. The braking system consists of four 7.5-inch disks, which are cast from vibration-resistant grey iron and four identical single-piston floating calipers.
Engines
The ProGator 2030A GPS has a Tier IV compliant engine with a rerouted exhaust muffler, while the ProGator 2020A GPS has a powerful 34-horsepower automotive grade EFI gas engine for heavy duty work.
Zero Grease Points on Two-Wheel Drive
Both of these machines have zero grease points with sealed bearings for a smooth ride and less maintenance. Filling the brake fluid is also quick and easy, and requires no tools.
If you have any questions about either of these John Deere GPS PrecisionSprayers, you can contact your local John Deere dealer.
If you enjoyed this post or want to read others, feel free to connect with us on Facebook, Pinterest, or Twitter!
You might also like: