John Deere has announced that it has redesigned the N500C Series Air Drills for 2019, bringing even more features into the mix to make daily tasks easier for operators. The air drills now integrate the latest in seeding technology, including the new ProSeries Openers to provide small grain producers with the most accurate smart seeding tools on the market.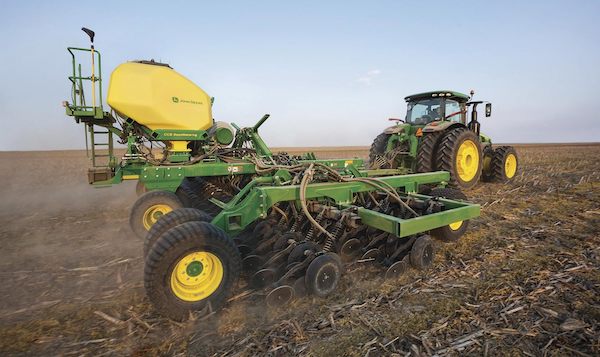 "Easier meter access, improved seeding accuracy and increased capacity with less compaction were the most common requests we heard from customers," said Ryan Hough, marketing manager for John Deere Seeding. "The N500C Air Drill was designed to give operators much easier meter access, and the latest in integrated technology for improved seed placement accuracy, control, and confidence, to help them do the best seeding job possible for cereals, canola, soybeans and other crops."
The main frame and commodity tank have changed, with the blower mounted in the forward position and a raised platform to give users easier meter access to clean out the seed. The N500C also features electric-drive volumetric meters for greater seed population control.
The John Deere ActiveCal tank scales for on-the-go seeding calibration from the cab. RelativeFlow blockage provides row-to-row seed-flow monitoring, and TruSet offers downforce control from within the cab.
Let's take a look at some of the other highlights of the redesigned N500C Air Drills and how they can help producers out in the field.
High Floatation Tires
The N500C Air Drills have 33×15.5R16.5 tires that come standard on all machines, resulting in better flotation and less compaction. The mainframe also has walking beams to allow for better ground following.
Electric Motors
Meter sections are controlled with electric motors – each one has its own electric drive motor. This eliminates the need for a variable-rate drive hydraulic motor or ground drive wheel.
SeedPlus Mobile App
The N500C Air Drills are compatible with the SeedPlus Mobile App for Android or iOS, which give operators insight into tank scale weights and allow for changes in meter calibrations.
Power Generation Unit
All electric motors are powered by a power take-off power generation unit or an onboard hydraulic power generator. Users can choose either of these options based on their tractor limitations.
If you have any questions about the John Deere N500C Air Drills, you can contact your local John Deere dealer.
If you enjoyed this post or want to read others, feel free to connect with us on Facebook, Pinterest, or Twitter!
You might also like: