To accommodate John Deere customers who apply high-volume liquid fertilizers, crop protection products and other solutions over a wide variety of fields, the company has rolled out the new LS475 Liquid System option for the F4365 High-Capacity Nutrient Applicator. With this new liquid application system, customers can cover more acres without having to stop frequently for refills.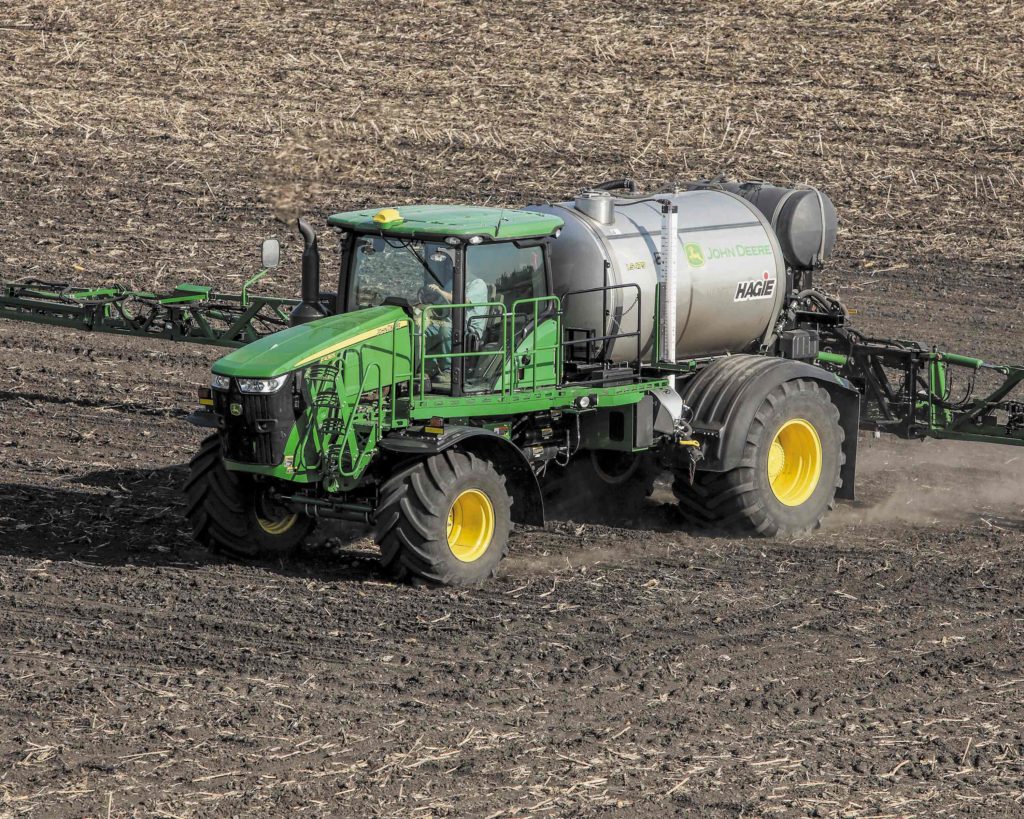 "The F4365 High-Capacity Nutrient Applicator has quickly become the industry standard in large, high-horsepower, low-impact broad-acre applicators," said Joel Basinger, production step marketing manager for John Deere. "Since its introduction in 2016, we've added more application functionality to these machines, including an air boom and different spinner-spread drybox options. The new LS475 Liquid System, designed in collaboration with Hagie, is another example of the flexibility customers will have in using these machines to apply liquid fertilizers and other solutions to a variety of fields on their farms or for their customers."
Let's take a closer look at some of the features of the new LS475 Liquid System option and how it helps producers out in the field.
Large Tank
This liquid system features a large 2,000-gallon tank that can be filled at 300 gallons per minute. With this high-capacity liquid system, large-acre producers have the ability to cover more ground during short application windows while minimizing soil compaction.
Faster Application Speed
With its wider boom and dual solution pumps, the LS475 can help apply liquid at rates from five gallons to 420 gallons per minute, depending on the application speed. With the liquid system in place, the F4365 can apply solutions at speeds up to 30 miles per hour.
Rinse Tank
The LS475 Liquid System features a 200-gallon rinse tank with an automatic rinse cycle. It also features the PowrSpray™ Solution System, which makes it simple to perform multiple functions from the load station, including nozzle check and field cleaning with an on-board pressure washer.
Wide Boom
With the widest factory-installed boom available on the market, customers can cover 12 percent more acres per pass. They can also easily switch from low-pressure/high-rate fertilizer application to high-pressure/low-rate for pre-emergent herbicide, burn-down or pasture application. The dual plumbing eliminates the need for customers to route additional plumbing lines.
To learn more about the LS475 Liquid System option, watch the video below!
If you have any questions about the LS475 Liquid System option or the F4365, you can contact your local John Deere dealer.
If you enjoyed this post or want to read others, feel free to connect with us on Facebook, Pinterest, or Twitter!
You might also like: