To help customers handle a greater variety of loader and PTO-driven operations, John Deere has given its 6M Series Tractors a new look for 2020. The eight cab models of the 6M Tractors now feature several improvements to comfort, visibility, maneuverability, and technology not previously seen in the mid-spec 6 Family Tractors.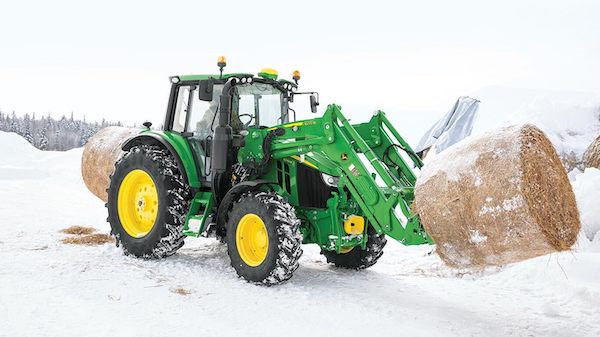 "Because of their compact size, wide horsepower range and versatility, the 6M Tractors have been a popular power choice for a variety of dairy, livestock, hay, and diversified ag customers, as well as roadside mowing and property maintenance, and other off-farm tasks such as snow removal," said Lyle McMillan, marketing manager for John Deere 6 Family Tractors. "Based on extensive customer input and feedback, we've made the 2020 models even better by adding more options that customers can include based on what they want to accomplish and what best fit their operations."
Updated Cab Comforts and More
All of the 6M Series Tractors have cabs with new styling and a digital corner post display for improved visibility of machine functions. They also feature a panoramic roof and more ergonomic controls for ease of use.
The 6110M and 6120M have been redesigned with a 94.5-inch wheel base that is seven inches shorter with a sloped hood that provides an 18-foot front view distance for improved visibility for loader work. These two models, in particular, also have an optional front-axle suspension and cab/loader suspension systems.
"The 6110M and 6120M may be the most versatile haying, feeding, and all-around chore tractors we have on the market, ideal for many different types of on-farm and off-farm chores, and these changes make them an even better fit," added McMillan.
New Technology
Each of the models in the 6M Series has new technology for customers who want precision guidance, telematics and other features typically found in larger or higher spec tractors. AutoTrac™ guidance comes factory-installed, and JDLink™ telematics are available for fleet management, service updates, and maintenance alerts.
"The 6M Tractors can be ordered with front hitch and PTO, which makes them much more versatile in operating equipment such as snow blowers, front-mounted mowers with rear side-pulls and other front-mounted and powered attachments customers may have," McMillan added. "All these new features and options, especially the PowrReverser on the loader joystick and integrated AutoTrac guidance, will be popular with many customers and help make the 6M Tractors the most advanced, productive and durable utility tractor in this category."
Watch the video below to learn more about John Deere 6M series tractor models.
If you have any questions about the 6M Series Tractors, you can contact your local John Deere dealer.
If you enjoyed this post or want to read others, feel free to connect with us on Facebook, Pinterest, or Twitter!
You might also like: