For many, the cold weather and less than ideal weather conditions brought on by winter mean staying inside, which can bring about a sense of boredom. This doesn't have to be the case for John Deere enthusiasts, though! This winter, the company will be attending a number of trade shows to demonstrate a range of equipment and technologies. In fact, this season of trade shows kicked off in early January when the company attended CES 2020 in Las Vegas, NV.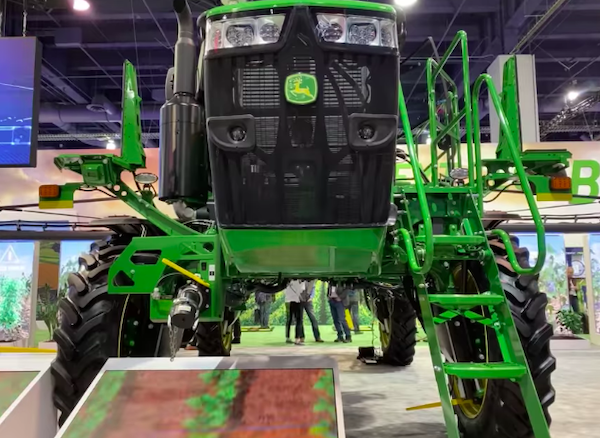 By attending these events themselves, the public can get up to speed on the latest happenings across industries, from agriculture to construction. Let's take a look at five trade shows that John Deere will be attending this winter.
When: January 28 – 30
Where: Iowa Events Center, 730 3rd St., Des Moines, IA
About: The Iowa Power Farming Show is the third largest indoor farm show in the U.S., boasting nearly 700 exhibitors almost every year. The event spans 7.7 acres, three buildings, and seven floors across the entire Iowa Events Center. The goal of the show is to highlight the latest and greatest in ag manufacturing. At this year's event, attendees can visit John Deere at booth 2038.
Additional Information: More information about the show.
When: February 11 – 13
Where: 4500 South Laspina St., Tulare, CA
About: The World Ag Expo is the world's largest annual agricultural exposition, with more than 1,500 exhibitors on display each year across 2.6 million square feet of exhibit space. In addition to showcasing the latest in farm equipment and technology, the expo makes it a point to host free seminars on topics important to dairy producers, farmers, ranchers, and other agribusiness professionals. Attendees can stop by and meet the John Deere team at their North Green Belt booth, located between "O" Street and "P" Street.
Additional Information: A brief history on the show.
When: February 12 – 15
Where: Kentucky Exposition Center, 937 Phillips Lane, Louisville, KY
About: The National Farm Machinery Show was developed with the idea of showcasing the most complete selection of cutting-edge agricultural products and equipment. Industry professionals attend this event to learn as much as they can before the upcoming growing season. Interesting in seeing what John Deere will have on display? Stop by booth 6627 in the South Wing.
Additional Information: More information on the show.
When: February 21 – 23
Where: American Royal Complex, 1701 American Royal Ct., Kansas City, MO
About: The Western Farm Show in Kansas City typically has more than 500 exhibitors each year, dedicated to showing off the latest in agribusiness. Everything from farm implements to livestock equipment goes on display at the event, giving industry professionals an opportunity to get up close and personal with tools of the trade. Attendees can also meet the John Deere team at booth B in the Governor's Building.
Additional Information: Frequently asked questions about the event.
When: March 10 – 14
Where: Las Vegas Convention Center and Festival Grounds, 3150 Paradise Rd., Las Vegas, NV and 311 W. Sahara Ave, Las Vegas, NV
About: CONEXPO-CON/AGG is the largest North American construction trade show representing asphalt, aggregates, concrete, lifting, and more. There will be 38,000 square feet of carpet spanning the John Deere Enterprise booth area, as well as 250 product experts on hand to speak about all of the company's products. At this year's trade show, John Deere enthusiasts can visit the team in several locations – John Deere Construction / Hitachi Construction at booth N12525 in the North Hall, John Deere Power Systems at booth S83817 in South Hall 4, and the Wirtgen Group at booth S5419 in Silver Lots 1 and 2.
Additional Information: Additional information about the show.
If you have any questions about the John Deere equipment you see at these events, you can contact your local John Deere dealer.
If you enjoyed this post or want to read others, feel free to connect with us on Facebook, Pinterest, or Twitter!
You might also like: