Whether you're texturizing pavement or leveling uneven ground, there is a John Deere cold planer attachment for you. The company recently expanded its lineup of offerings, rolling out the CP18E, CP24E, and CP30E to cater to a wide range of customers with varying needs. All of these cold planers are compatible with John Deere skid steers and compact track loaders for the ultimate convenience.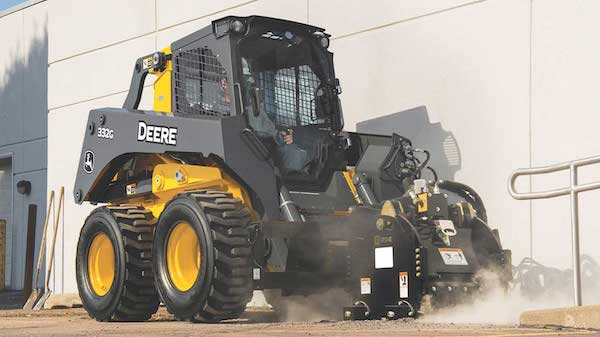 "The E-Series cold planers are new solutions for our customers seeking more efficiency on the job by enabling all cold planer functions to be controlled from within the machine's cab," says Jessica Hill, program manager, global attachments at John Deere. "The attachments deliver value to our customers through increased productivity and uptime, while maintaining low daily operating costs."
Let's take a closer look at what the CP18E, CP24E, and CP30E offer and how they can potentially help you on the job.
Planetary Drive System
The CP18E, CP24E, and CP30E all have heavy-duty planetary drive systems, which are designed to deliver high torque speed for the most difficult jobs. The operator can remove the side plate when the attachment works next to a curb, making it ideal for use in tight spaces.
In-Cab Controls
Operators can easily maneuver the depth of each of these cold planers, and tilt and side shift to increase overall productivity. Rear spoil clearance reaches up to nine inches, meaning operators can also be more productive by minimizing the amount of material that is pushed back into the cut.
Visible Case Pressure Reservoir
The visible case pressure reservoir of the CP18E, CP24E, and CP30E allows operators to easily keep an eye on high case pressure. In the event that there is high case pressure, the reservoir will fill with oil and give an indication to shut down the system. Ultimately, this results in less maintenance.
High-Capacity Gearbox
The high capacity gearboxes on these cold planers have a drain-and-refill plug for clean and easy maintenance fills. A funnel can be used to keep daily operating costs low, and oil only needs to be replaced after 1,000 hours of use, or on an annual basis.
If you have any questions about the CP18E, CP24E, or CP30E cold planers, you can contact your local John Deere dealer.
If you enjoyed this post or want to read others, feel free to connect with us on Facebook, Pinterest, or Twitter!
You might also like: